Red Square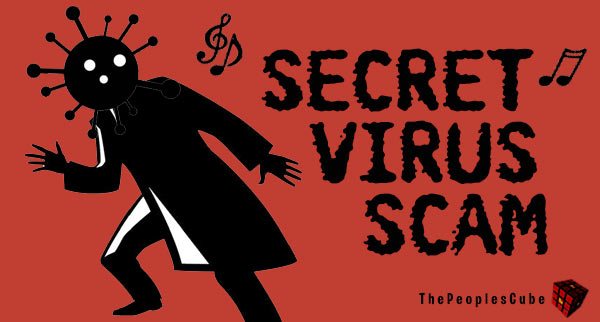 Music by Johnny Rivers, Lyrics by Steven Millmond (who gave us his permission)
There's a badass virus, bringing danger
Now everyone you see acts like a stranger
For only shopping's sake another chance you take
Fauci says we won't live to see tomorrow
Secret virus scam, secret virus scam
They've given it a number and COVID is its name
Beware of pretty faces that admire us
A pretty face can hide an evil virus
Ah, be careful what you spray
Stay at least six feet away
Odds are you won't live to see tomorrow
Secret virus scam, secret virus scam
They've given it a number and COVID is its name
[INSTRUMENTAL INTERLUDE]
Secret virus scam, secret virus scam
They've given it a number and COVID is its name
Spreadin' through the Wuhan Bat Market one day
And then seedin' up the Bowery alleys next day
Oh no, you let the face mask slip
While kissing persuasive lips
The odds are you won't live to see tomorrow
Secret virus scam, secret virus scam
They've given it a number and COVID is its name
[INSTRUMENTAL: ELECTRIC GUITAR]

Groucho Marxist

I got some Wuhan pneumonia and some nasty China Flu......


jackalopelipsky

Most equal and authorized karaoke hooliganism, Supreme Direktor.


Groucho Marxist

Perhaps another visit with Johnny Jiang at the Wuhan A GoGo is in order


Ol ex Jarhead
Groucho

Did you "want to kiss her, but she's way too tall."?


El Presidente

BRILLIANT!


Callmelennie


Long distance information, give me Harbin, Helion Jing
Help me tell a party that I'm stuck in quarantine
She could not leave a number cause she feared they'd trace the call
But my cell mate took a code word and he wrote it on the wall

Help me information, get in touch with my Mai ling
She's the only one who'd dare to call from Harbin, Helion Jing
I'm bolted inside Wuhan, high above a ridge
Just a half a click from the Yangtze River Bridge

Last time I saw Mai Ling, she was screaming to me goodbye
With "Dont you take my Daddy" drops that trickled from her eye
But we were pulled apart by the Bat Flu quarantine
And sent her to refugee camp in Harbin, Heilong Jing

Help me information, more than that I cannot add
Only that I'm short of breath from all the phlegm I have
Mai Ling is only six years old, oh information please
Tell her I wont be leaving soon to Harbin, Helion Jing


jackalopelipsky

Great Balls of Lenin, Lenniesky, just live firing karaoke hooliganism from Whisky Tango Foxtrot a-Go-Go.

forelock tug,
'pelipsky


Groucho Marxist

Now... Who has Wuhan Pneumonia?


Callmelennie
There's a man who puts your life in danger
Every time he coughs; infects a stranger
Aw, with every touch he makes; another body aches
Odds he'll transmit the bug tomorrow

Secret contagion man; secret contagion man
Aw, hes giving you the Covid
And you wont even know his name

Beware the laughing grandkids that you find
A cherub face can hide a hugging mind
Aah, be careful not to play, must keep your scamps at bay
Odds are you might catch the bug tomorrow

Secret contagion man; secret contagion man
Ahh, he's given you the Covid
And you wont know who to blame

Sneezing at the Walmart counter one day
Then later getting in your space the next day
Oh no, you felt a fleck of spit
Shot out from contagious lips
Odds are you'll be sick as dog tomorrow

Secret contagion man; secret contagion man
Ahh, he's given you the virus
And he wont even feel the shame


Callmelennie



I wanna jump but I'm afraid to fall
I wanna holler to the nurse on call
Old man wheezing's got a hold of me too
I got the Marxist pneumonia and the Hubei-Wuhan flu

Call her my angel cause she helps me heal
I wanna kiss her, but she wears a shield
Old man T-Cells are betraying me, too
I got the Marxist pneumonia and the Hubei-Wuhan flu

I wanna scream out cause of what I dread
I need a treatment cause I feel its spread
Hey man, give me a little dose HCQ
To stop this Marxist pneumonia and The Hubei-Wuhan flu

I wanted chloroquine, but they're way too slow
They should have started me four days ago
Blue State resistance got a hold of me, dude
I got the Marxist pneumonia and the Hubei-Wuhan flu

Lungs are failing now from cytokine storm
I know I'm passing cause they waited too long
Orangeman resistance took a toll on me, too
I had the Marxist pneumonia and Hubei-Wuhan flu


jackalopelipsky

Hope you recover with some of Trump the Pusher Man's chloroquine. If you do, don't say so in public, or the local Democrat Party Institution Party will 'take care of you.'

'pelipsky