Stalin for Time



It was the 20th of January, a cold and windy DC day.
Obama was inaugurated but Joe had something he wanted to say.
His handlers started shakin' not from the cold but from his speech.
They realized his mouth was just a place for Joe to put his feet.
Then he said he hangs with friends at Home Depot for latte around ten.
Today VP Joe from Delaware's foot is in his mouth again.

Michelle said to Barry, "Do you think it's foot-in-mouth disease?"
"Well, VP Joe never had a lick of sense. Pass the popcorn, please."
"He said that when I met King Abdullah I didn't bow."
"I had misspoke when I picked Joe for VP but it's too late now."
Seems like nothin' ever comes to no good up on Union Street.
Today VP Joe from Delaware's mouth is all around his feet.

Big Brother said just how he wants the porkulus money to be spent.
Spreading wealth around makes money look like it's heaven sent.
Joe said you better not mess with him, he's absolutely serious.
Obama's looking like he's ready to throw someone under the bus.
I saw Joe yesterday in Congress pretending to be casting votes.
Today VP Joe from Delaware is just the butt of righteous jokes.

And Michelle said to me, "You know, that bozo's gonna get us hosed."
"He's been talkin' all morning and his pie hole is never closed."
"That racist preacher, Rev'rend Wright, dropped by today."
He said, "G-damn America." "I love it when he gets that way."
When Joe said, "That's patriotic," all the people laughed at him then.
Today VP Joe from Delaware's foot is in his mouth again.

A term has come 'n' gone since we heard the news 'bout VP Joe.
The B.O. failed re-election, his socialism had to go.
No one wanted any type of a single payer health care plan.
So we flagged ourselves to show patriotism - Yes we can!
Now "Carter's Second Term" is gone and we're happy to see him go,
There's just no one to make fun of like that bozo named VP Joe.


Opiate of the People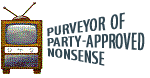 A fitting tribute to VP Joe! At last a vindication for Sprio Agnew fans, for he is no longer the worst VP ever!


Reiuxcat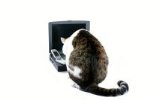 DAMN!!!