Red Square

Lyrics by Laika the Space Dog, music by Santa Claus, global warming by Al Gore
Albert the Goremon was a gloomy frightful soul
With a private jet
And a great big house
That consumes many tons of coal.
Albert, the Goremon tells a scary tale, they say,
With junk science he'll show and the children
Know how global warming will kill them one day
There must have been some money in that
Carbon offset he found.
For when he placed it in his bank
He began to dance around.
O, Albert the Goremon
Was jive as he could be,
And the children say he could scare
All day with insane climate theories
.
Junkety junk junk
Junkety junk junk
Look at Albert go
Junkety junk junk
Junkety junk junk
He made tons of dough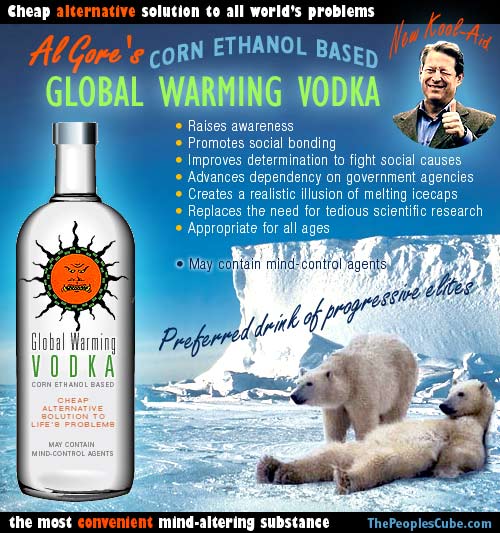 Premier Betty

How true.


Father Prog Theocritus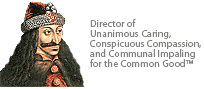 I worry though if we have Global Warming if it will warm the cold heart of Our Many Titted Empress. Can't have that.


Comrade_Tovarich

Comrades,
I for one am grateful to Comrade Gore for unveiling the truth about myn-/womyn-made (ah, hell, capitalist-made) global warming, but recently I have been listening to the country tune "Clubbin' Seals" from the album
Loved By Thousands...Hated By Millions
by metal band M.O.D.
(liner notes)
to stoke my righteous progressive anger. Considering the following lyrics to "Clubbin' Seals," you might feel my pain over the threat of global warming:
***
Let's go way up North
And grab a case of beer
'Cause what we like to do for fun
Cain't be done down here
I've got the bumpersticker
On the back of my four wheels
I don't care what you like to do
I'd rather be clubbin' seals
***
There are other lyrics, but you get the continental drift. Global warming could end what I'd rather be doing. If there are no more seals to club, well, there would be no more seals to club, so stop the warming, Al. Please, for the seal children!
But this all got me thinking yet more: It might be nice to have a forum or list, created through caring and sharing, of reactionary songs, so we Progressives can stay informed on what incorrect thoughts escape our formerly unassailable stranglehold on the entertainment industry.
I humbly propose most of the metal album
Speak English or Die
. I cannot help but laugh at some of the outrageous throughtcrimes it contains.
Considering how acceptably progressive most of their output was, the
Dead Kennedys'
"Holiday in Cambodia" is shockingly reactionary
(lyrics here)
.