Komissar al-Blogunov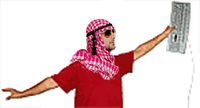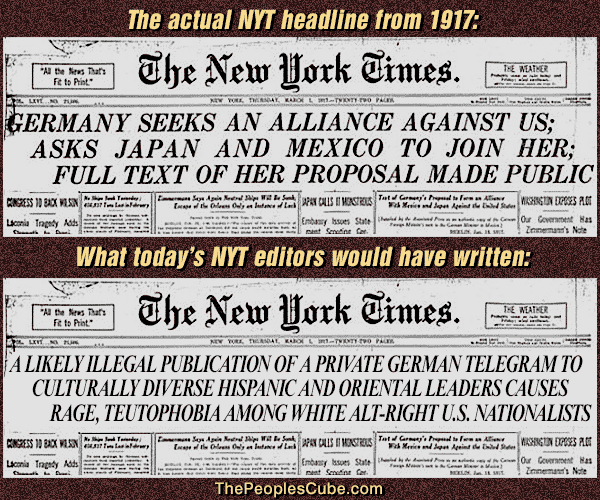 If today's New York Times editors had been in charge in 1917 (strumming harp music)...
A likely illegal publication of a private German telegram to culturally diverse Hispanic and Oriental leaders causes rage, Teutophobia among white alt-right U.S. nationalists
The questionably legal publication of a private German telegram has some alt-right conspiracy buffs attributing the worst possible motives to the German government.
The telegram, which legal experts caution may be illegal for citizens to read, was little more than the German government reaching out to culturally diverse nations about a somewhat complex real estate deal involving the southwestern United States.
The enlightened and progressive German foreign secretary, Arthur Zimmermann, was leading by example as his historically white nation sought to make amends by building bridges to Hispanic and Oriental cultures. But rather than applaud such noble and far-sighted efforts, large, angry crowds of disaffected, white Americans are once again seized with the latest outbreak of Teutophobia.
These angry and undereducated xenophobes point to a series of unrelated, lone wolf attacks against Americans in which, they say, they can "connect the dots". But once the facts are examined, the dot connecting turns up little more than some imaginative paranoia perhaps inspired by spy novels.
For example, the sinking of the Lusitania occurred off the coast of Ireland in 1915. While some Americans were regrettably killed, the possibility of an accidental discharge by a German U-boat remains a likely explanation. If the nations of the world had simply banned the use of submarines, the whole tragedy might have been averted.
Then there was the tragic explosion at Black Tom in New Jersey in 1916 involving some undocumented German citizens who were merely making a statement for peace. Noting the distance between Ireland and New Jersey, it boggles the mind how one can "connect dots" so separated by the vast Atlantic Ocean. But, sadly, irrational fear can connect any two things, no matter how far-fetched.
Then, at the beginning of the year, for their own reasons, the Germans decided to resume unrestricted submarine warfare. This has something to do with their complicated relationship with Great Britain, and their desire to reduce carbon emissions caused by maritime trade. First, it's Germany's business, and second, shouldn't such efforts to protect our air and water for future generations be applauded rather than blindly condemned?
But as if it weren't bad enough that mobs of Teutophobes were foaming out their anger at the German government, they have even directed their hatred against the most vulnerable among us – the undocumented German residents.
"I don't feel safe anymore going out at night with sticks of dynamite to go, um, fishing," lamented Lothar.
"Ja!" joined Karl, "and I get hostile looks every time I inquire about ammunition dumps in America. What happened to free speech?"
Franz said that his hobby as an amateur radio operator seemed to make his neighbors suspicious. "They send the police on me, and I have to hide and pursue my hobby someplace else," complained Franz. "What kind of police state is this?"
No, it's not enough that we have troops in Mexico persecuting the social justice warrior, Pancho Villa, or that we destroyed the beautiful feudal culture of Japan by introducing them to our "technology"; we have to fault Germany for trying to clean up our mess!
Already President Wilson has ominously severed diplomatic relations with Germany. How will his administration react to the publishing of Zimmermann's telegram? Will he bravely hold to a course of neutrality, or will he give in to America's dark Teutophobic side and arrogantly seek a declaration of war?
Only time will tell.

Red Square

On this occasion I'd like to make another contribution to our "THEN & NOW" series.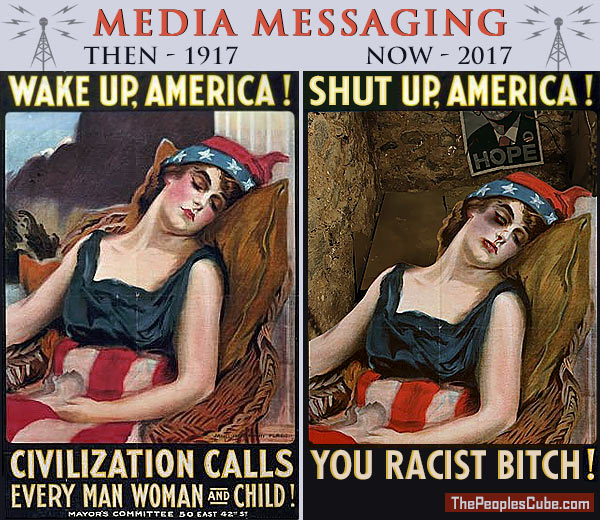 See previous THEN & NOW:
This one is called "
Media messaging: Then and Now
"
1917: Wake up, America! Civilization calls every man woman and child!
2017: Shut up, America! You racist bitch!

Komissar al-Blogunov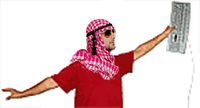 Agitprop is on top of their game, as ever.


Red Square


Minitrue

"They say Woodrow Wilson has had contacts with the court of the Russian Tsar. Democrat congressmen are pushing for an investigation."


Komissar al-Blogunov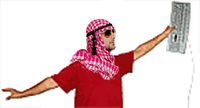 Red Square
This post and the poster gave me an idea for a whole new topic -

Media messaging: Then and Now
...and the Cube rolls ever onward to the Glorious Utopia of Next Tuesday!

Komissar al-Blogunov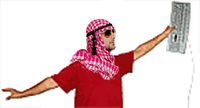 Minitrue
"They say Woodrow Wilson has had contacts with the court of the Russian Tsar. Democrat congressmen are pushing for an investigation."
Alexander Kerensky's and Woodrow Wilson's lifetimes overlapped. That's pretty suspicious if you ask me.

Minitrue

Could it be that attorney general Sessions time-travelled to 1917 to collaborate with the Russians? I believe it is plausible... He did not specifically deny doing it...