Opiate of the People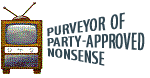 Comrades, much is being made about a little dustup that happened on an airplane last week; what was it, someone's underwear caught on fire or something? Was the guy smoking? Anyway, there seems to be a lot of concern about things that
could have
happened but didn't; I mean, no harm, no foul, right? But in spite of the fact that the system worked and everybody landed safely, certain factions (Fox News, teabaggers and the like) appear to want to blow this all out of proportion.
It's getting out of hand and people are saying they're afraid to fly again, just like after that plane flew into those buildings in New York about 10 years or so ago. Now as then, these fears are totally unfounded. Let's be clear: President Obama is not afraid to fly. House Speaker Pelosi is not afraid to fly. Why should any of us be?
~
I want to relate to you all something one of our nation's leading
Obama Kool Aid drinkers
thinkers said about last week's incident. Maybe these sound words of advice will help calm you down a little.
Matthew Yglesias
Not So Scary "Terror"



Obviously, people shouldn't be lighting anything on fire inside airplanes. That said, all the big Christmas airline incident really shows to me is how little punch our dread terrorist adversaries really pack. Once again, this seems like a pretty unserious plot. And even if you did manage to blow up an airplane in mid-air, that would be both a very serious crime and a great tragedy, but hardly a first-order national security threat.

And then there's Peter King:

"This was the real deal," said Representative Peter T. King of New York, the ranking Republican on the House Homeland Security Committee, who was briefed on the incident and said something had gone wrong with the explosive device, which he described as somewhat sophisticated. "This could have been devastating," Mr. King said.

Ultimately, it does no favors to anyone to blow this sort of thing out of proportion. The United States could not, of course, be "devastated" by anything resembling this scheme. We ought to be clear on that fact. We want to send the message around the world that this sort of vile attempt to slaughter innocent people is not, at the end of the day, anything resembling a serious challenge to American power. It's attempted murder, it's wrong, we should try to stop it, but it's really not much more than that.

Let me put it a little more simply for those of you who, like Sarah Palin, still move their lips while they read:
Does everyone get the point now? There are
over three hundred million
of us! How many were on that stupid plane, three hundred maybe, tops? Does anyone seriously think that these AQ idiots are going to blow up a million planes, because that's how many they'll have to knock down to make a serious dent in our numbers. Losing 300 hundred or so in a fiery terrifying crash is no big deal. On top of that, as the potato chip commercial from years ago said, "Don't worry, we'll make more!"
Let's chill out here, folks. This "war on terror" stuff is just a big hot air campaign by Rethuglicans to bring in campaign contributions (why can't they act like grown-ups and sell their votes for billions like Ben Nelson and Mary Landrieu did?) It's all a big distraction meant to divert our attention from the
real
threats to our national security like global warming and lack of single-payer healthcare.
So let's all relax, there's nothing here to see, move on. Everybody go out and play a few hundred holes of golf like our brave president did - you don't see him cowering in fear over a pair of smoking boxer shorts, do you? Don't let one pathetic joker on an airplane prevent you from living your life; don't let wingnut paranoia make you fearful and distrustful of your neighbors.
I want to tell you a little story: I was out taking a stroll today around a local reservoir when I saw this fellow struggling with a bunch of 30 gallon drums near the shore. I decided to go over and talk to him and see if I could give him a hand. He told me his name was "Al Akbar" and he was from the State Department of Environmental Stuff and was trying to restock the reservoir with green algae. Now, if I were like a lot of you, I would've been suspicious and started dialing 911 and bringing the police all the way out to this generally unguarded reservoir for nothing. But, I could see he was a cool guy just trying to do a difficult job so I gave him a hand dumping his drums. He thanked me and wished me "Breath to America" (I think that's what he said - he seemed to be in a big hurry to get out of there, must've had another bunch of drums to dump or something.) Anyway, I felt really good about myself afterward; that's what matters.
So everyone, don't worry, be happy; the country is in the best of hands.

Comrade Whoopie

Seriously, since when is setting your skivvies on fire a crime? I've done more damage to my underwear after eating at Taco Bell...Sheesh!


Colonel 7.62

What about those who might choose to freeball it so to speak? Shouldn't they feel oppressed for *not* having skivvies to set on fire? And isn't burning your skivvies a form of free speech anyway?


Commodore Snoogie Woogums

Opiate is correct.

First off it is only ALLEGED that he tried to blow up the plane at this point. Our Glorious steadfast President even said so in his statement, which I don't even think he should have bothered to give the nation anyway, what a total distraction the rethuglicans made of this petty little 'incident'.

Second of all I don't believe any of the hype about his undies carrying any explosives at all. As a matter of fact I think the so called evidence against this poor young man has already been soiled.

Were going to have to wait but I'm sure we will hear all about why he torched his BVD's and the true side of the story at his trial. I hope they televise it so he can use it as a platform to explain his innocence and his motivations.


Opiate of the People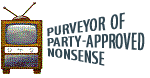 Comrades, remember that we progressives want to be friends with all races and creeds, especially those that are trying to kill us. In the interest of international good will, Chairman Obama is prepared to overlook the occasional plane falling out of the sky. But no one should doubt his resoluteness on this matter; friends or not, Comrade Holder and our Ace Homeland Security Department will be prosecuting the heck out of all miscreants, and just to show them we mean business we will be turning the heat way down in the courtroom and only supplying basic cable to the alleged transgressors' holding cells. After three or four hundred or so of these incidents, Chairman Obama will run out of patience and his spine will stiffen considerably.


(Ah, not really, but just saying so will probably put the fear of Allah in these guys, eh?)


Czar Czar

(off)
I know why Obama isn't worried about stuff like this; Secret service ensures his safe travel. But is this Yglesias asshole really THAT ideologically motivated that he can't connect the dots, that HIS OWN LIFE could have been as much at stake as anybody else on that random flight??? GOOD GOD!!!!