Red Square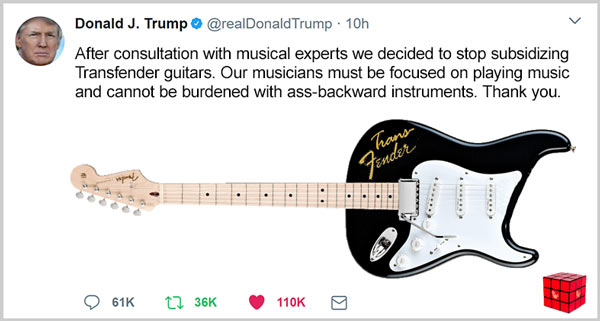 President Trump Tweeted today his decision to stop the US government's subsidies of Transfender guitars after consulting with "musical experts," arguing the musicians "must be focused on playing music and cannot be burdened with ass-backward instruments." The President's Tweet also contained an attachment showing what a Transfender guitar looks like.
White House spokeswoman Sarah Huckabee Sanders later described the move as a "common sense decision," telling a press briefing that Mr. Trump had promised voters to stop government waste and gratuitous social experimentation on the taxpayer's dime.
Anonymous White House officials have been overheard gossiping about what a tough spot they were putting Democrats in. "This forces Democrats in Rust Belt states like Ohio, Michigan and Wisconsin to take complete ownership of this issue," Washington Post reported one of them saying. Another added that it would "be fun to watch some of them have to play the Transfender guitars themselves."
It turns out they didn't even need Democrats to do it; some high-profile Republicans were happy to.
Senator John McCain (R-Ariz.) blasted President Donald Trump's announcement as "unclear" and "inappropriate" given that a number of government-subsidized studies of Transfender guitars are still ongoing.
"I do not believe that any new policy decision is appropriate until those studies have spent every government dollar assigned to them, and their findings thoroughly reviewed by the Committee on Transfender Equality and the Congress," McCain said in a statement, adding that The Bureau of Alcohol, Tobacco, Firearms and Musical Instruments had already decided that currently existing Transgender guitars could remain in circulation.
Today's presidential announcement puts an end to the long-standing government policy to subsidize the design and production of Transfender guitars that would otherwise not survive the competition with the traditional Fender instruments preferred by most musicians. Approved and signed into law by the Obama administration, the subsidies in the amount of up to $8.4 million annually constitute only a tiny percentage of the federal budget, while supporting the need of a small but growing community of Transfender musicians.
Their current number is not known since the government refuses to release any data, but the Institute and the National Center for Transfender Equality said there could be as many as 15,000 musicians currently playing Transgender instruments.
Experts and activists agree that Trump's decision threatens the future of other important government subsidies that support, among others, the economically disadvantaged trans-fishing-rods and trans-bait-and-tackle manufacturers. To do so is not just spiteful and cruel. It's un-American.
Special thanks to Astroturf Roots for the Transfender picture and the idea.

Clara Illbustyourballs Zetkin
Trump banning Transfender guitars.........hmmmmm..........this reminds me of something. What is it?.......Oh yeah.................




Major Ursa Vitnopants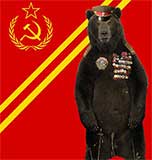 Target will start hiding them in Transfender backrooms.


Comrade Svyet

RedDiaperette

What pronouns are we to use for these Transfender guitars? And are these pronouns to be used for all guitars or only for the Transfenders?


Ivan Betinov

If there were a group of transgender musicians who had a sense of humor, this would be a great stage schtick. Unfortunately, I don't think there are any.


Comrade Putout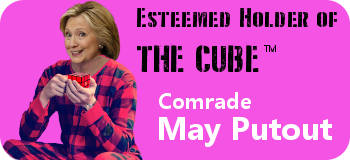 Ivan Betinov had a great thought when he
If there were a group of transgender musicians who had a sense of humor, this would be a great stage schtick. Unfortunately, I don't think there are any.
.


Together at last...


.


Ziggy Stardust,

Captrans 'Lefty' Craptek

and

Rock in the TransUSA




.

Imperatorskiy Pingvin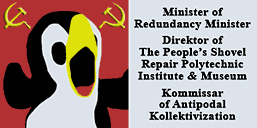 And when will crossinstruments be allowed to be stored and carried in the case with which they happen to identify at any given moment?




El Presidente


Major Ursa Vitnopants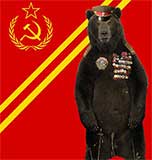 Is that a Transfender in your lap or are you just happy to see me a man in a dress?