Opiate of the People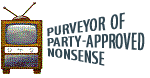 Comrades,
HR 3200: The American Affordable Health Choices Act of 2009
will soon be coming to a vote on the House floor if Comrade Nansky "I'd Rather Be Feared Than Popular" Pelosi has her way (what do I mean "if"????) The bill is currently up to about 12 million pages, many of them still blank, and copies will be transported to the Capitol in large dump trucks, each of which has a carbon footprint the size of Algore's mansion plus Ted Kennedy's old Oldsmobile.
In keeping with the modern Congressional tradition, no one knows what's in this bill; the House members all agreed they would rather wait until after they voted on it and then be surprised. However I, Opiate of the People, was able to sneak on to one of the trucks and look under the covers when the driver stopped to let off some illegal immigrants at a truck stop. Here is what I uncovered:
The rumors were true, there is no "public plan" option in the bill. However, there is a previously unmentioned paragraph in it stating that "all private property now belongs to the state." More on that later.
The President, members of Congress and other select denizens of the political class are not covered by the plan. They will be forced to obtain health care by travelling long distances to Switzerland and the French Riviera.
Hemorrhoids, most foot problems and any disease whose symptoms include foul smells or mucus are now classified as "joke ailments" and ineligible for treatment.
The Federal Department of Health and Human Services (HHS) will be setting up a network of "national nannies" who will be coming to everyone's home to make sure they eat their vegetables and get to bed on time. This I found under a sub-heading entitled "if you're gonna live in my country, you're gonna live by my rules."
There will be no increase in income taxes to pay for the plan. However, every American will be required to buy some number of cartons of cigarettes each week based on income and political affiliation.
Cigarette smoking is now illegal and punishable by death after which the perpetrator's assets will be subject to seizure will all proceeds going to fund the health care plan.
Contrary to the vile rumors spread by plan opponents, there will be no rationing of treatments. However, to control costs, certain treatments will only be available in select locations. For example, an certain expensive new heart procedure will only be available to patients who travel to the summit of Mt. McKinley in Alaska. They indicate this is because the instruments work better when cold and the surgeons are more alert when any step could be their last. Makes sense to me.
Another strike against the naysayers, there is no "death counseling" provision or euthanasia of any kind in the bill (senior comrades, relax!) Strangely enough, under the section entitled "Reconciliation, Adjustments and Fudge Factors" subheading "Actuarial Anomalies" the budget projections are based on the assumption 10% of the senior citizen population will disappear mysteriously each year. Must be a misprint.
If any private citizen is unhappy with the care they receive, they are free to seek treatment in another country. There is one caveat but I am not quite sure what it is. The wording in the bill says "However, said individual will not be allowed to come"; this was at the end of a page and the next page was blank, so it is not clear how that sentence is to be finished.
An interesting item under "Funding Fantasies" was that they expect some income from the sale of Government Girl Scout CookiesTM. I don't recall "Soylent Green" as being one of their flavors but it's been a long time since I had a box.
That's all I was able to find out so far but it sounds like a great plan to me. I can't wait until I start getting my health care from a kindly government bureaucrat instead of a grasping imperialist money-grubbing corporation.
Thank you, Nansky! Thank you, Obama!

Comrade Zaphro

Mmmmmmm...... Soylent Green.


Colonel 7.62

Soylent Green, the standard meat in Revolutionary Guard rations. With ObamaCare, we'll be able to hand out even more!


Comrade Zaphro

Colonel 7.62
With ObamaCare, we'll be able to hand out even more!
I'm sure you meant, 'ration it more fairly'.

Colonel 7.62

Yes, ration it more fairly. Congratulations Comrade Zapho, you passed my little test and have avoided more time in the beet field. In fact, you get an extra slice of Soylent Green and a second shot of vodka tonight for demonstrating your understanding of basic socialist ideas. Also, we are watching you closer for thinking and correcting me. Much closer now. Don't mind the goon in the shower stall.


Leninka

Now, I finally figured out what the words "Going Green" mean.

And, where is the provision for doctors who cure nymphomaniacs with alternative medicines and natural means, if you know what I mean.


ComradeJNobleDagget
SOYLENT GREEN IS PEOPLE!