Mikhail Lysenkomann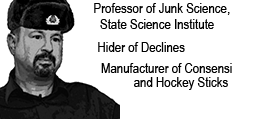 Found in an obscure corner of the Internet. Not sure what to make of it, but it might be a Polar Squirrel on a shrinking People's Cube ice floe.
Tineye image search finds no matches.
Any of you seen this before?

Papa Kalashnikook

No Comrade, no luck. I did find a similar "themed" meme. A rare Antarctic alligator with a rare polar raccoon hitching a ride. Time to go burn more styrofoam, I really like this warm weather and so do they.

Captain Craptek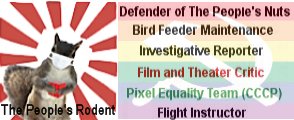 This pix was taken as I was leaving on my "Journey to Stop World Hunger" tour.
A bit later...

Ivan Betinov

"Global Warming Threatens Squirrels?" You pose this as a question? Of COURSE global warming hurts squirrels! GLOBAL WARMING HURTS EVERYTHING! (Except Al Gore's bank account.)

<Idiot.>


Red Square

Haven's the squirrels suffered enough?
My Progressive Experiment Derailed by Nature