PittsburghProletarian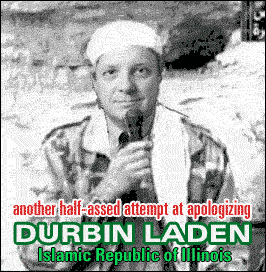 Washington , July 4 - In another half-assed attempt at apologizing for his Flag Day (June 14th) speech on the Senate Floor, Senator Dick Durbin from the Islamic Republic of Illinois ( IRI ) has decided to change his name to Dick Durbin-Laden.
"As a super patriot and big friend of our military," the Senator explained, "I feel it is my citizen's duty to do it out of solidarity with the poor mistreated detainees at Guantanamo Bay detention facility. Until every detainee is freed, given a house and home, two cars in every garage, a chicken in every pot, 72 live virgins, and a non-flushable Koran, we will fight the good fight, right every wrong, and out-French the French in pusillanimity every chance we get," Senator Durbin-Laden added.
When questioned why he chose the Fourth of July for his announcement, the Senator shot back, "What, was Flag Day too much for you to stomach? Hey buddy, I'm the one who's the real patriot here!"

Lenora Fullome
This is a good first step, but when will we finally liberate Gitmo?

These political prisoners are being subjected to the most horrid tortures because they are Men of Color, and because they shamed America by opening quality day-care centers in Afghanistan. Their fight is our fight, and I was so happy to see women (and lesbians!) bring this matter to the forefront of our national backburner over the Fourth of July weekend.

The Fourth of July. Commemorating the day when slavery was abolished in America. When will slavery around the world be abolished?

We will not be free until Al Qaeda is free.

Glory to The Revolution and smash the fascist state!


Premier Betty

He holds that microphone close to his face so passionately; I wonder what it could mean....