Kilroy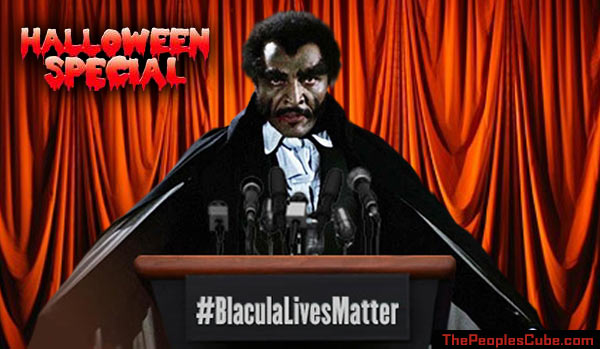 Barrow, AK – VampCon, an annual convention of the world's leading vampires, was disrupted today by activists from Blacula Lives Matter. Formed following the decapitation of Tara "True Blood" Thornton by Swedish vampire hunters outside of a St. Louis nightclub last April, Blacula Lives Matter often draws attention to black vampire slayings by interrupting accursed gatherings.
Dracula: Prince of Darkness, dressed in a black Armani suit and silk cape, was concluding his lecture on professionalism and decorum when the activists began yelling from the audience. As he admonished younger vampires for wearing excessive glitter lotion and not only playing with, but having relationships with, their food, angry voices rose from the crowd.
"A group of Blaculas caused a disturbance, shouting down the speaker," recounted Count Vlad Tepes. "They demanded recognition for the Blaculas that have been destroyed recently, and when organizers assured them that memorials and discussions of hostile forces were on the next evening's agenda, they turned into bats, flew up on stage, and took over the microphone."
Shaking his damned head, the Count continued "everywhere you look, our young men are wearing skinny jeans and lip gloss and attempting to mate with depressed, vitamin D-deficient human females. And males. The Blaculas know how important that presentation was."
Blacula himself, Prince Mamuwalde of Africa, led the protest. Accompanied by Queen Akasha, Dr. Hess Green, Maxamillion of Brooklyn, and Al Sharpton, Mamuwalde began announcing the names of the fallen, beginning with Count Chocula. In a booming voice, he demanded that presenters and audience members "Say the name of our chocolate brother!"
Count Chocula, whose race was never conclusively determined, self-identified as a Blacula. Before he was destroyed by vampire hunter Abraham Lincoln during an unsuccessful burglary in Hershey, Transylvania, it was rumored that he darkened his skin by eating unhealthy amounts of chocolate.
Mamuwalde continued, "Chocula was peacefully walking in a chocolate factory at night, and that racist muthafukah staked him and dumped his body in a vat of molten Mr. Goodbar mix."
While many attending vampires unsuccessfully tried to restore order by agreeing that all undead lives matter, at least one audience member seemed receptive to the turmoil. With each new name recognized, a voice could be heard from the crowd counting, "ONE Blacula, TWO Blaculas, THREE Blaculas..."
"That's right, little cracker, no vengeance, no peace!," exclaimed Sharpton.
The protest only ended when security was called and a pack of young werewolves roughly escorted the Blaculas out. Why the werewolves were nearly hairless and wearing only Under Armour boxer briefs was not immediately clear.
The Vampire Lestat summed up the situation. "The classic vampires are old and out-of-touch, but those Blaculas need to deal with the garlic in their own coffins before they turn on us. Blade takes out ten Blaculas every weekend in Chicago."
"I wish they hadn't thrown chocolate milk all over crazy uncle Nosferatu," he added.
Also in attendance, Edward Cullen declined comment, but later tweeted a naked selfie with the hashtags #BlaculaLivesMatter and #EwwGrayPubeIDie.

Kilroy

Just some party-approved Halloween fun.


Captain Craptek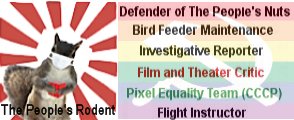 Red Square

Is it a coincidence that the Hillary hearing happened around Halloween? I don't think so.

Kilroy

The candy house and diet of fat German children would explain the cankles...


Captain Craptek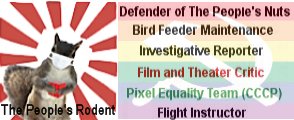 Kilroy
The candy house and diet of fat German children would explain the cankles...

Red Square


El Presidente