Superkommissar Maksim

Cap and Trade Legislation Is Your Salvation. It's True, We Can Control The Climate. If You Are Righteous You Will Gladly Give All Your Worldly Belongings To Us The Church Of Reformed Latter Day Climatologist AKA The Gormons.
Beware of the deniers:
Watch the video exposing cap and trade the Obama administration EPA banned.

Infidel Castrate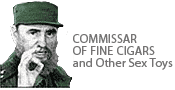 Awesome art! Brings tears to my eyes!

The Goremon came to my city (Phoenix) last week and he caused spontaneous group masterbation when he spoke.


commissar Cthulhu

I don't see why anyone would ban this video, I mean it commits the blatant and dangerous thought crime of critizing the godvernment but that can easily be edited out after the people have been have "voluteered" to take some reeducation courses. but that third part is very socially equal. They had the very good idea that we should place extra taxes on evil bussinesses and give that money back to "consumers" untill those bussinesses break down and go green.

I would suggest that the gormans do both, cap and trade with companies and and tax dangerous green house gass producing fuels but that would be a dangerously unprogressively effecient and easy solution.


Gulag Guyinski
Comrades weather always perfect in Gormon utopia of Big Rock Candy Mountain.


Comrade Whoopie

Infidel Castrate

The Goremon came to my city (Phoenix) last week and he caused spontaneous group masterbation when he spoke.
Yes and I recall that I told you it would snow. Well, it didn't snow in Arizona, but it did snow in Colorado. So I feel partially vindicated.
Maybe I should've said that anytime Gore speaks, a major snowstorm happens somewhere.
(I camped one time at Lost Dutchman Mine and it rained! In the Sonora desert, the one night I was out there. WTF? Didn't find any gold either.)

Opiate of the People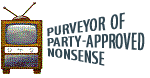 Gosh, according to the Goracle, Mother Earth's core temperature is SEVERAL MILLION DEGREES!
http://hotair.com/archives/2009/11/18/video-the-goracle-on-geothermal-temperatures/
We have no time to lose! We must pass Cap n' Trade now before things get any hotter! We must pass Obamacare now before it gets too hot for Comrade Obama to hold the signing pen! Omigod, my feet are getting warm.... ooh, ow, ooh, hot, hot, hot....

Komsomolka Olga Katrina

Hm, when I see "Goremon", my mind switches to a different wavelength...

GOREMON, I CHOOSE YOU!! TO FURTHER MY ENVIRONMENTALIST AGENDA!!

Gotta cap 'em all! Play the Goremon Carbon Credits Trading Card Game!!