Red Square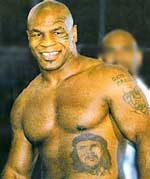 WASHINGTON -- Mike Tyson's career ended abruptly Saturday night after the sixth round against Ireland 's Kevin McBride. Three men - Black, Asian, and Hispanic - approached him and whispered something in his swollen ear as he sat on the floor. Tyson stayed seated for a few moments, then hesitatingly rose and walked to his corner, nevermore to return.
Looking more like an aging man than the champion who once terrorized the heavyweight division, Tyson complained about being betrayed, threatened, and harassed by everybody, from the print media to communist governments to NAACP to Chinese taxidermists.
"I had made some wrong choices," Tyson confessed, pointing at his tattoos of Mao Tse Dung, Che Guevara, and Arthur Ashe. "When I was reading papers, like the New York Times, I got the impression the entire world loved communist icons. So I thought if I put faces of Mao and Che on my body people would stop hitting me. But these boxers are animals! Nothing is sacred no more - it's all about personal victory for them. What about the people? Che was the people's hero! Mao was the people's liberator! Arthur Ashe was the first Black tennis champion, how dare they hit him in the face? It's so improper!"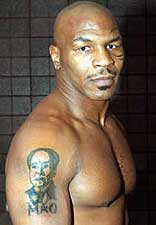 In many ways, Tyson's boxing career has been over since the night in Tokyo when he was approached by Chinese government representatives who expressly forbade him to expose their leader's face to other people's punches.
It happened soon after Tyson had Mao Tse Dung's face tattooed on his shoulder. Four masked men with guns and accents mysteriously appeared in his locked hotel suite. The heavyweight champion was ordered to let them examine his shoulder, after which he was given a brochure explaining how properly to maintain and groom a Mao Tse Dung's tattoo, what soap to use, and what side to sleep on. Most of the brochure was unreadable due to bad translation - just like any other user manual that comes with products purchased at a 99c store. As a consolation, Tyson was informed that his stuffed body would look nice in the Beijing museum of Mao Tse Dung 's images gathered from around the world. This might happen sooner than he thought, Tyson was told, if he disobeyed their orders.
People from NAACP also approached him with a similar request. Tyson was told that if he would continue to get Arthur Ashe tattoo punched he would be disavowed and taken off all calendars and Black History Month newsreels, replaced by
President Bush's judicial nominee Marcia Cooke
.
Some shady characters representing various Central American guerilla groups have also occasionally harassed Tyson with regards to his
Che Guevara tattoo
, threatening him with machetes or bribing him with bootleg Cuban tobacco products. Those he easily beat off, but such encounters did not boost the champion's morale.
McBride finishes the job others started.
---
If that were no enough, the children of
Alberto Korda, the late Cuban photographer
who took the picture of
Che Guevara
that became an icon of
progressive
students worldwide, sued Tyson for stiffing them on a license fee to put Che's face on his stomach. They demanded $50,000 in compensation, which is how much the photographer had won previously, in an out-of-court settlement with
companies that had used Che's image in an ad for Smirnoff vodka
.
And then came the day when "the baddest man on the planet" could take it no more.
"I can't do this no more," Tyson said. "I'm not going to embarrass the sport anymore. I can't live looking over my shoulder and seeing Asian-looking taxidermists in every corner. Or some crazy Cubans with lawyers and machetes. I don't want to be replaced with Marcia Cooke on TV. I'm afraid of dark alleys. I'm afraid I'll wind up in some communist museum in China. I don't think I have the stomach for this anymore. I feel like Rip Van Winkle right now."
It is rumored that a Tyson-looking punching bags are already for sale in some sporting stores in South Florida, where local residents of Cuban origin enjoy punching the hell out of him, especially the stomach part featuring the life-sized portrait of
Ernesto Che Guevara
, who was known to take a personal interest in the interrogation, torture, and execution of political prisoners in Cuba.
Robin Givens
Hi people (*snaps*),

You have not seen Mike's tattoos "below the belt!"  George Soros (on the balls) and Michael Moore (on the wank) get stuck in nasty places.  I bet they are used to it (*double wink -- smile*).

I had Che tattooed to me to excite my "baby pet gorilla" (that's what I useded to call Mikey!).  Che's beard was my love patch.  The first time I saw Che's mystery face lookin at me from a shirt in the Greenwich village, I knew I had to worship him, and the less I knew about him, the more exciting!  I was in a special secret club!

I never figured the Mao tatoo, since he is not on many t-shirts, and I told Mike, but he said he saw one of the dopest prisoners he did time with who had that tatoo of Mao with the "Bruce Lee" shirt and he had to have it!

The Arthur Ashe tatoo was a mistake.  My he-man stumbled into his tattoo place, fell in a chair and asked for a "Ashe tray" for his cigarette from the owner named Arthur "Trey" Washington, then he passed out.  Well, it sounded like my man said "Arthur Ash, Trey blah blah blah."  So they putted the tattoo that you see today!

At this point, my ex-man just wanders into the tatoo parlor and spins this thingy called the "wheel of rebels and miscreants" and gets whatever pops up.  He calls himself a "deconstructionist" (he heard that on Oprah)!

I do miss him, and feel real badly now that he has messed up so many fights.  My man used to be a non-thinking "fistwheel of pain and torture" (I saw that on TV too!).  Now he is so sucky (*unhappy face, frown, tear**)!

As far as my next project, I was thinking of doing something about Fidel Castro.  I don't know much about him, but I see him in the paper all the time with his cool outfits and strong poses.  A smart friend of mine (he reads the NEW YORK TIMES!!!) told me that all the smart people think he is really great!  I never voted for him because I live in California, but I hear he is all the rage in Miami (I LOVE South Beach!)

Anyway, leave Mike alone.  he had done so much for all of us, and now that he is having trouble, he needs our support

Love

Robin


Komrade Koz
Komrade Robin,

I am comrades with a person in Nashville with the same last name.  Perchance do you have family in Nashville??

-Komrade Koz


Premier Betty

Wouldn't you think that he would at least have a Lenin or Stalin tattoo somewhere?

Robin Givens
No Mr. Koz, I was married to Mike and I live in L.A. with my three cats.


Red Square

CHART: Tattoos Explained by Location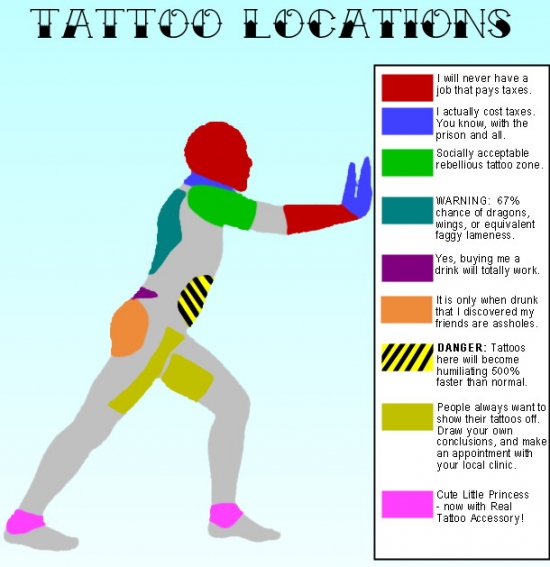 Comrade Whoopie

Of course comrade, some tattoos are more equal than others.