Groupthink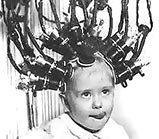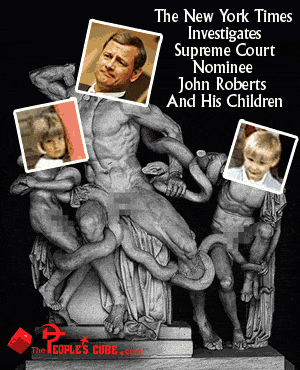 ---
The Drudge Report story about the New York Times
investigating
the adoption by John Roberts of his two children continues to generate intolerant rhetoric in right-wing conservative circles. We asked the New York Times Executive Editor to give us his take on this story. Here is what he told The People's Cube:
"As is often the case, the original "source" of this "story," the Drudge Report, is wrong, overwrought and a gross misrepresentation of what has happened. What really happened is that our reporters, with great care, understanding the sensitivity of the issue, only asked a few legitimate questions.
One of our reporters simply asked, "Are these children really from South America? They look awfully white to me. Are they really children, or are they midgets with severe conservative right-wing agendas? Are these alleged "children" members of the Federalist Society?"
Another reporter merely inquired, "How did they get those kids? Why weren't they aborted? Did the mother have the right to choose? Who died and made the Robertses Gods?""
Several high-ranking Democrats agree with the NY Times' approach. Said Dr. Howard Dean, "These children are clearly plants by Karl Rove to make Roberts look sympathetic, but he can't fool the American people." Chairman Dean then demanded immediate repatriation of the stolen children and televised public show trials for both Rove and Roberts.
Virgil
"'O my poor people,
Men of Washington, what madness has come over you?
Can you believe the enemy truly gone?
A gift from the New York Times, and no ruse?
Is that Pinch's way, as you have known him?
Lies must be hiding in these pages,
Or it was written to butt against our Constitutional rights,
Peer over them into our houses, pelt
The Capitol from the sky. Some crookedness
Is in this thing. Have no faith in the paper!
Whatever it is, even when the New York Times brings gifts
I fear them, gifts and all.'"


Red Square

Dear Virgil, I see you rewrote Laokoon's speech in which he warned the Trojans against accepting the wooden horse, a free gift from the Greeks - a fairly decent speech for which the snakes dragged him and his sons into the sea and drowned them.

The snakes, in fact, are our trusty liberal media, sent by the clever goddess of communism to destroy truth-tellers and their families for foolishly warning people against accepting free gifts of the Common Good. But we shall win, for no one has ever resisted a free gift - our strongest weapon.

The last time it happened, a few Trojans escaped the massacre, sailed to Italy, and built Rome. We then destroyed Rome by using free gifts of breads and circuses. Once again, a few Romans managed to escape. This time we must make sure that no one escapes.

Democratic Undergrounder
Clearly Roberts and Rove conspired with Eric Rudolph to blow up South American abortion clinics and then Roberts proceeded to brutally force the women who were carrying the fetuses to give an unwanted birth.  He then adopted the children who now have to be raised in a horrid Neo-Con environment.  I am sure they are already wishing they were aborted when they had the chance.  Instead Roberts, with the help of Rove, has turned them into war-mongering money hungry neo-cons.  

I heard one of the adopted children set up a lemonade stand in front of the Roberts home and sold lemonade made by Halliburton and then refused to pay any taxes on the profits or redistribute the wealth to the neighboring children.  My source was a very reliable anonymous source who received the information through an anonymous source who received the information from another reliable anonymous source.  They also informed me the Karl Rove doesn't like France and he once threw an ACLU flier in his fireplace, a clear show of his hatred towards human rights.

NARAL
Our new ad:

Ominous voice:

"How did John Roberts get those awfully white children from South America?  Was the mother held captive when she really wanted an abortion?  Did they bleach those children to make them white?

We all know that Roberts blew up abortion clinics.  Now we know he stole the right to choose and bleached the unfortunate birthlings.  Do you want this man on the Supreme Court in charge of your nether-regions?"

Democratic Undergrounder
Goooo NARAL!  Thanks to you my girl friend had the right to choose to abort last year.  All in all she had 9 abortions thanks to your valiant efforts!  Your organization represents how this nation should...secularist...free of christianity...and the right to choose!  Just imagine...if I had any children I may have to get rid of my prius and drive a minivan build by corporate Amerikkka.  McFascistSrhubBushNaziantichoiceMinorityhater can take his fascist regime elsewhere!  And I am soooo sick of my immature republican neighbors!  Just to prove what morons they are I pissed in their gas tank and filled it with sand.  Besides their rug-rats (who probably never were asked if they wanted to be aborted or not...poor souls) leave toys in my yard!


Premier Betty

Don't believe the capitalist lies about abortions increasing the risks of cancer. It's all LIES!!!

NARAL
Thank you all for your support.

As you know, like ice cream, abortion is a Summer favorite!  All you pregnant women out there, remember, the hot Summer months can really be uncomfortable.  It is ten times worse with a parasitic fetus heating up your womb and fattening you up!  How about a nice cooling abortion?  Afterwards, you can relax in a NARAL salon or just go home and look in the mirror at your svelte physique!

Some pregnant women want to get an abortion, but don't have the time.  We have a new system where we will pick you up and bring you home at NO COST!

Other women say, "well, I am in my 8th month, so I'm not eligible."  Well, think again!  Late term abortions are one of the easiest and best things you can do for your body and your mental health.  That pesky fetus won't be kicking and hormoning you up at all after one of our late term procedures!

See you at the clinic!  Remember, it's the responsible thing to do, and you'll be much happier for it!

Tonya Sumner
Hey all!

Thanks to NARAL, I avoided all kinds of problems with clothes and bathing suits!  Sure, I wanted a baby, but who could put up with all that swelling and fattening up that comes with it?  I was all ready to have a baby until I passed by a NARAL store.  They were practically GIVING AWAY abortions, and WITH A MANICURE AND PEDICURE!  Who could resist.

In one hour, I was back to feeling myself again, and my nails looked totally awesome!

Thank you NARAL!

NARAL
Are you cursed by pregnancy?  You are definitely not alone.  Almost every teenager will develop some form of pregnancy.  Take this quiz to check your pregnancy IQ and learn how to cure yourself.
Pregnancy is caused by
         a. poor hygiene
           b. eating greasy foods  
           c. eating chocolate
           d. none of the above    
    Which of the following are treatments for pregnancy?        
           a. retin A cream
             b. benzoyl peroxide cream
             c. accutane pills
             d. antibiotic pills
             e. all of the above    
       True or False.  Fetuses are really specs of dirt stuck in the
                  pores of your uterus.      
       True or False.  Squeezing or popping fetuses helps them
                    disappear faster.
Click
here
to get the answers!
unwashed mass
The Leader is right, abortion will end all poverty.