Comrade_Smirnoff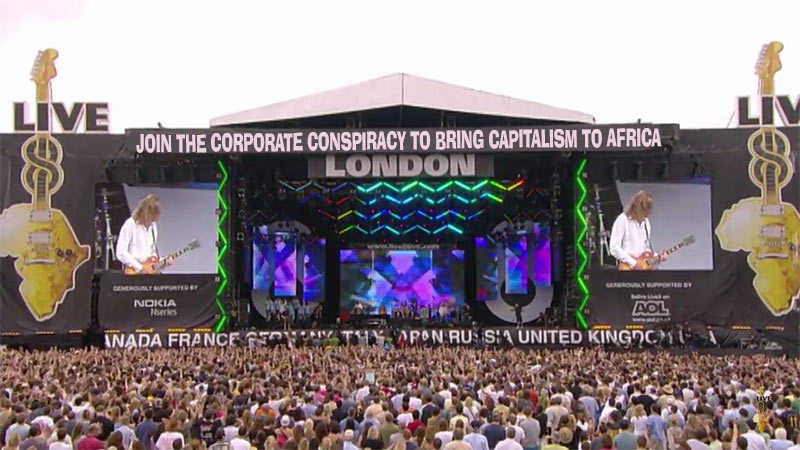 Comrade Smirnoff is our (The People's) political consultant who lives in Edinburgh, Scotland. He has his own progressive blog, http://www.world-socialism.blogspot.com
"This is not about charity; this is about trying to redress the balance between rich and poor."
-- Elton John.
Right wing cynics will question why we ought to take lessons from Mr. John, a man who lives a life of extravagant, hedonistic luxury (he recently claimed to spend £200,000 per month on flowers) and who doesn't appear to do a great deal of work. Who is he to lecture ordinary working class people on what to do with their hard earned money?
Well, as Nietzsche argues:
"A higher culture can come into being only where there are 2 castes of society: the working caste, and the idle cast, capable of true leisure; or, to express it more emphatically, the caste of forced labour and the caste of free labour… but the task of the idle is in fact the more capable of suffering and does suffer more; its contentment in existence is slighter; it's task greater."
You see? We've got it easy compared to him.
As we know, absolutely all of the problems of the third world have been caused by the West. All those educated in the field of Marxist economic science will be familiar with the 'zero sum game principle'.
Essentially it is impossible for one man to improve his lot unless it is at another man's expense. This is true both within and between nations. As such, any disparity between the economies of impoverished Africa and the prosperous West can only be explained by the fact that the West must have stolen its surplus wealth in some way.
A classic example of the ravages of British colonialism can be found in the form of Hong Kong; described in 1945 as a 'barren rock'. It was poor. It had been occupied by the Japanese in the Second World War and then received a flood of refugees with hardly any money. In 1961 - John Copperwate, a right wing Scottish Presbyterian, was appointed Financial Secretary and quickly set about imposing Western Capitalism upon the colony.
Hong Kong: Victim of British Colonial Exploitation
By 1992 Hong Kong was the 11th richest nation in the world, and had overtaken its rapacious Empirical master, the United Kingdom, which lay in 17th place. 'But wait a second', I hear you say, doesn't that contradict the 'exploitation' paradigm? Not at all. Hong Kong may have gained material wealth under British rule, but only at the expense of spiritual wealth (the zero sum game can be applied in different ways). Traditions and customs were lost as corporate 'lifestyle propagandists' promoted Western culture. While there may not have been any rapacious looting in Hong Kong's case, there was an equally sinister crime: 'MacDonaldization'
Japan: Victim of American Imperialism
In contrast, Sikkim, Bhutan, and Nepal were never touched by the evil tentacles and of the western powers. None were colonised. All have proven to be spectacularly successful, and have maintained their rich cultural heritage. Tribalism, primitive subsistence farming, nomadic hunter gathering etc all provide rich pickings for Western Marxist anthropologists such as the great Margaret Mead. While these societies remain in a state of perpetual material poverty, there is no inequality to speak of.
Nepal: Untouched by Western Imperialism
Bhutan: Spiritually Rich
The ill educated multi-prize winning economist, and notorious white supremacist Thomas Sowell has attributed Africa's plight to a lack of 'social capital'. Sowell and his neo-liberal cabal argue that the key to solving the problem of endemic African poverty, lies in the liberalisation of the continents social and economic systems, stimulating the growth of entrepreneurial and commercial skills. As such, they argue for the gradual transformation of traditional, rigidly organised, hierarchic African social systems so that 'individuals' can attempt to shape their own lives leading to the growth of 'individual' enterprise and commerce...
but at what expense???
Thomas Sowell: Known to his nephews as Uncle Tom...
Even his family thinks he's a sell out
Following the European 'enlightenment', the general direction of social development was one of freeing the 'individual' from the repressive cultural ties which bound him to his tribe. The respect for the 'individual' man, the recognition of his own views and tastes as supreme in his own sphere, the belief that it was desirable that men should go their own way, develop their own 'individual' gifts and crafts and acquire their own property, lead to a loss of the traditional communal values of the golden age of feudal serfdom.
The growth of rapacious science and industry which followed the march of 'individual liberty' from Italy to England and beyond following the 'enlightenment' provided a 'scientific' sanction for the manipulation and exploitation of natural resources by hungry capitalist wolves.
As my previous post comprehensively demonstrates, virtually all of the problems of the present-day world can be traced to industrial development. All of the pollution, all of the global warming, all of the mechanization and alienation of labour, can be attributed to scientific and economic 'progress'.
As such, in tackling African poverty, we are fighting a hydra. For every head that we cut off, another one pops up. Sure, liberalising the African economy might stimulate economic growth, but think of the down side.
Bob Geldof: He may dress like a Maoist, but he doesn't fool us!
In the past endemic poverty afflicted all. By facilitating the growth of a market economy we would effectively be paving the way for some Africans to lift themselves out of poverty before others, creating 'inequality'. This would be a cardinal sin. Marx would turn in his grave! In fact, it seems blindingly obvious to me that Bob Geldof, Bono, Elton John and co. are just a bunch of ethnocentric, entertainment industry lackeys. I suspect that in organising Live 8, they had a hidden agenda to open up the continents gates for their corporate masters (did anyone else see Bill Gates on stage?) to turn Africa into yet another corporate colony.
They seek to 'MacDonaldize' African society just as they have done the West. With the forward advance of global capitalist hegemony in the West, all that is solid has melted into the air. In this context, Africa is not poor at all; it is spiritually and culturally rich, free from the rabid individualism and excessive materialism of the west. Let's keep it that way!
Pure Genius
I recognize this for what this is.
I thank you Smirnoff.

P.G.

WJC vacationing in Kenneb
It Depends on what your definition of "is" is, Fellow Traveller P.G.
Hell, even I know that.
Hey, I picked up some gossip the other day with the kitchen help here in Maine. Seems ole' Barbara here used ta call Dubya "Alfred E." every time he screwed up. Soon it got so repeatitve it was shortened to just "E" 'steada "W". Get it? I can't wait to tell Paul G.
"Babs" is a hoot, she's starting to turn me on. She lets me call her "Babs", can ya dig that?. More spunk and personality than that bitch I'm married to.
The lobster here is primo.


Comrade_Smirnoff
Cheers for the plug comrades!!!

May I suggest 1 update... Where it says 'Uncle Thomas Sowell: He hasn't got a clue' change it to 'Thomas Sowell: Known to his nephews as Uncle Tom... Even his family thinks he's a sell out!!!


Premier Betty

Poor Hong Kong, too bad it was ruined by western capitalism