Groupthink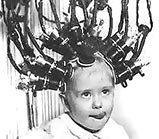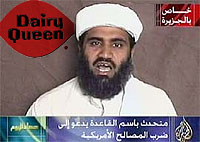 "We will catch that Zionist Dairy Queen whoever she is, then we will rape her, and Allah willing, we will remove her head with a rusty saw."
---
Ella Cinder
, whose son Chucky was injured in an accident involving a partially-eaten Chili Lime Chicken Strip Basket at the State Fair, is still holding a vigil outside a local Dairy Queen and is now claiming that the entire incident might have been avoided if "The Zionist Entity withdrew from Palestine."
When asked what relevance Israel had to her son tripping on a Dairy Queen product, she started to tremble and then wailed, "Shaddup, you filthy mother-disrespecting son of a bitch! How
dare
you speak to a mother like that?" Sensing an "episode," one of Ms. Cinder's handlers presented her with a Dairy Queen "Kool Aid Grape Explosion Blizzard." As she contentedly sipped on her chilled beverage, Ms. Cinder spoke to the press through interpreters: "Tell those dirty corporate whores that I am
offended
."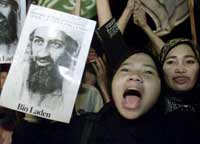 Members of a moderate group Mothers for the Annihilation of Infidels express their maternal feelings.
---
A spokesperson explained, "Ms. Cinder is basically offended by everything. But she is especially offended by Israel because many of its occupants eat at dairy restaurants. She feels there is a link between Dairy Queen and a kosher diet, and that Big Milk has joined forces with the Zionist entity in conspiring against her family. She's not anti-Semitic, though. Some of her biggest supporters are Jewish - like the newly formed mainstream centrist group,
Jewish Mothers for the Destruction of Israel,
whose goal is to express their motherly feelings through arts, crafts, and interviews to al-Jazeera. Just like Ms. Cinder they are all sweet moms with a kind word for everyone."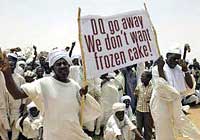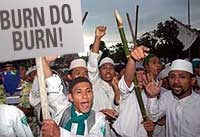 ---
At that point, with purple Blizzard stains covering her
Go to Hell, DQ!
T-shirt, Ms. Cinder interrupted with a loud, sputum-drenched howl: "Goddamn CEO has time to run his filthy corporation, but hasn't got time to meet with
me!
In the name of my son Chucky... injured only a week ago... I am offended! I demand that he honor my son by ending his filthy ice-cream profits! And he should tell his corporate cronies at Chuck E. Cheese to stop using the name of my Chucky to sell their products!"
Those are sentiments which have resonated with many citizens across the country, and overseas. Some empathize with a Mother being tortured by a heartless capitalist entity, while others feel sympathy for the message of Israel's immediate destruction. To wit, she has found support among such international peaceful movements as
Salafist Group for Call and Combat, Revolutionary Armed Forces of Colombia, Libyan Islamic Fighting Group, Liberation Tigers of Tamil Eelam, Sendero Luminoso People's Liberation Army, Mothers for the Annihilation of Infidels, and many others.
The Internet in particular has been awash with sympathy. At one web site called
Daily Slop
, a contributor said, "I weep all the time for Mother Cinder. And when I think of that obscene Dairy Queen CEO, I vomit hard and continuously. How can anyone be so heartless? It makes me want to just murder every capitalist." And yet another post states in plain words the innermost feelings of just about every humanist alive today: "I would kill for an opportunity to hug Mother Cinder and tell her that I care."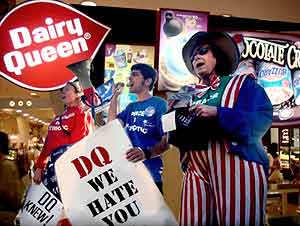 ---
Ms. Cinder's vigil has captured the imagination of other mothers. One such mother, as she emerged from the Dairy Queen drive-thru in a car with bumper stickers proclaiming "Where's the broomstick - DQ needs an interrogation!" and "Hey DQ! Listen to my rear end!" said, "As a mother with dignity, I feel exactly what she feels and I'm enraged at Dairy Queen because their ice cream makes my ass look big. C'mon DQ...speak to the lady!"
In the nearby "Grievance House," which is a focal point for support, wholesome meals, and lawsuit preparation, another peaceful group called
Mothers Against American Imperialism
holds daily strategy conferences over a Double Fudge Cookie Dough Blizzard Treat. A spokesperson for the group explained, "We will keep resisting capitalism, imperialism, colonialism, Zionism, and Dairy Queen. DQ...We hate you!" The other women then broke into an infectious chant of "DQ...We hate you! DQ...We hate you!" Oddly, their husbands and children didn't stay around to see this.
In the courtyard, Ms. Cinder was heard pleading to the world for more help to her personal tragedy. "Get me Maxine Waters! Get me John Conyers!
Where the Hell is David Duke?
I am offended! Send more money to the Grievance House, dammit! Offended!" Sensing that she needed to cool off from the glaring Nebraska sun, her entourage soaked Ms. Cinder's hair in a DQ chocolate malt. At that point, her trembling diminished.
Her son Chucky, who is in stable condition at a local hospital, once again declined to comment.
Comrade Yesir Iamfat
While studying terroristics art 'back in the USSR' (my twin plays drums on this song) in order to liberate my peeps from this DQ -I was forced to eat these vile 'najis' frozen things (pptooy -it is more filthy than camel's urine). But i had to so that i could blend into infidel DQ culture.  Of course -upon seeing me eat this iscream - all 'shaheed' wannabe followers would follow my example and eat this stuff too. This made them become fat-and the women rolly pollies must cover their fatness from head to toe in the jibjab-even when it is 120 degree F- so noone will notice how they have suffered from this DQ satan. This filthy DQ is a desertcreation! WHAT?! I ask you!!! What do you mean!? What else can we do!? Until we destroy all of this -we have no other choice but to eat this vile filth... Hmm you know - one of those cold dilly bars would go down really well here. This new place after leaving Paris - is hotter than the saudi deserts! I am burning up! And where are my virgins!?


Premier Betty

Quote:
Send more money to the Grievance House

Ah, yes. We all know that any problem can be solved by throwing money at it. Not our money of course, we must make the capitalist pigs throw away their money.