Red Square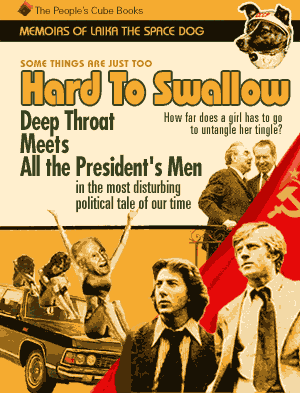 Watergate, just like McCarthyism, Iraq's WMD, and other revolutionary mantras, can't be mentioned too often. Every participant of the story, including the Albanian cleaning lady, has already published a book and cashed in on it. But the main hero of the people, the most proactive creature that brought down President Nixon, had remained anonymous and silent until this day. Well, not anymore.
Laika the Space Dog has recently come out with a masterly written suspenseful narrative. Hard To Swallow: Deep Throat Does All the President's Men is jam-packed with riveting revelations, unknown facts, and shocking images.
Below is a synopsis of Laika's new book soon to come out at the People's Book Club.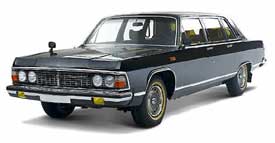 Chaika, Brezhnev's favorite car
---
During Nixon's 1972 visit to Moscow, Brezhnev took him on a wild limo ride where Brezhnev was the driver and Nixon rode shotgun. The legend has it that Nixon got cold feet; he didn't expect that kind of crazy driving from the Soviet leader. People pondered what those two discussed alone while this happened. Now we know.
According to Laika, it was really Brezhnev who got cold feet after Nixon had told him that deep at the DNC headquarters, in the bowels of the Watergate underground garage, the FBI had been illegally filming secret rendezvous between gorgeous Linda Lovelace and some nerdy characters named Robert Redford with Dustin Hoffman. Ms. Lovelace, the famous superstar of "Deep Throat" that started a "porno chic" movement, was the Soviet leader's favorite actress. His secret fantasy coldly shattered by Nixon, the jealous General Secretary started driving like a madman, scaring the secret service personnel watching from behind every tree trunk.

Linda Lovelace
---
Later that day the sad news of the fall of lovely Linda reached Erich Honnecker, Mao Zedung, Josip Broz Tito, Wojciech Jaruzelski, Fidel Castro, Le Duc Tho, and Enver Xoja. These communist heroes loved Deep Throat and secretly financed Linda Lovelace's fan clubs around the world through a network of undercover agents.
The biggest fan club of all was, of course, the exclusive circle of world's communist leaders. They couldn't let the FBI continue to violate Linda's privacy, filming her in compromising positions with phony Hollywood wimps. Such activities were a callous insult to their sensitivities, a stake aimed at the heart of their alliance, a capitalist plot to split the Warsaw pact with jealousy and bickering, and thus to impede world's steady progress towards communism. A secret plan was conceived and carried out, to destroy treacherous Nixon and replace him with a more tractable Jimmy Carter.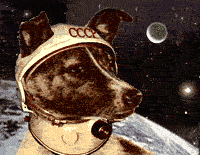 This is where Laika the Space Dog comes in. Space agent of communism in orbit since 1957, she coordinated progressive movements around the world, controlling the masses through their tin hats, via frequencies assigned to them by Comrade Kenneth (whose cover almost got blown in the 1986 Dan Rather incident). Laika was the most logical candidate for the Nixon assignment. The future of American presidency and the world revolution now lay in the small furry paws of a tiny mutt.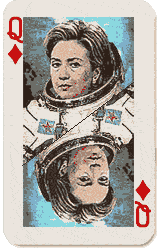 Aware of the Americans' proneness to destroy their own country with a misconstrued concept of free speech, Laika reactivated comrades Woodward and Bernstein at the Washington Post, by showing the Red Queen card. Comrades journalists received locations of secret FBI cameras and were ordered to link the illegal FBI surveillance to Richard Nixon. Their next step would be to denounce the Republican President as a perverted Peeping Tom who routinely violated privacy of hard-working, law-abiding Americans, and who used the FBI to film romantic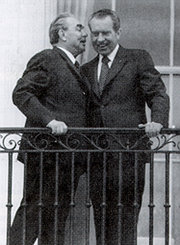 life of the leading Democrats for his gigantic home porn collection dubbed by the journalists as "the Nixon Tapes," which was later watched repeatedly by the entire Politburo and their wives at the Kremlin Theater.
To avoid further embarrassment for the leaders of world communism, Linda the "Deep Throat" could no longer be seen at Watergate. She soon received an unsigned envelope containing a round sum of money and instructions to change direction from porno superstar to feminist anti-porn and anti-gun campaigner, claiming that her white male chauvinist husband repeatedly raped her and forced to become a porn star at gun point. Who then would be the person appearing in the Watergate tapes instead? Who would be the best man for the job?
In June 1973 Mark Felt, the #2 man at the FBI, was informed by the Politburo of his new assignment. Using the skills acquired during his FBI training, double agent Felt easily changed his Dick Tracy looks for high heels and cheesecloth gowns. But what seemed to be a one-time assignment changed his life. Always a perfectionist, Felt watched hours of Ms. Lovelace's tapes in order to learn every single trick of the trade. Some routines needed to be changed, though. To protect his identity, he had to remain in the shadow while filming. To be a porno superstar and to shy away from the spotlight was admittedly a continuous torture.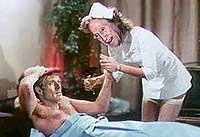 Agent Felt had to live with that torture for 33 years, acting like a callous FBI bully and later a retiree, while remaining a gentle and fun-loving Deep Throat at heart! There had been other unpleasant job details concerning hygiene, but double agent Felt held firm beliefs about his citizen's duty and selfless service to progressive humanity. No sacrifice was too small for the Party and for the Greater Good™.
The Party has reserved an honorable place for Mark Felt in a secret underground museum for the Politburo eyes only, which is deemed the highest honor for any undercover agent. Many of them died for it. Agent Felt lived to tell the story. Was he happy? It doesn't matter. There should be no greater happiness than selfless sacrifice for the people's cause.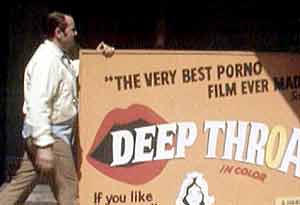 The rest is history. The Nixon Tapes got opened to the public and in August 8, 1974 the disgraced US President resigned in the most disturbing political scandal of our time. Comrades Woodward and Bernstein became superstars, driving Chaikas and dancing on the tables while wearing red-tinted sunglasses, pimp canes, and pink suits with wide lapels. American journalism has never been the same. All young aspiring journalist ever since have tried to emulate their success story, but mostly broke their teeth. To take a bite of a sitting Republican president they needed to have Laika on their side - Woodward and Bernstein never told them that!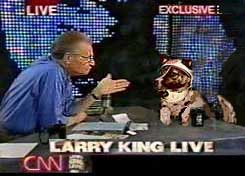 Every plot line has its happy ending. The Deep Throat routine has become a time-honored tradition among top Democrats as exemplified by the Lewinsky affair. To cover his tracks agent Felt started and maintained
deepthroatuncovered.com
but in May 2005 Felt's children disclosed his identity in order to made a buck on reruns of the famous scenes showing their dad as Deep Throat working all the President's men in an underground garage.
Laika was awarded Order of Lenin, "For The Common Good" Medal and Award, "Croix de Guerre," "Have No Fear, UnderDog is Here" and "Friend of People" License and Medallion. But she selflessly refused all medals because she actually "Felt" pretty darn good about the whole affair. She is still orbiting earth, controlling progressive tin hats, happy to be at the service of the toiling masses.
PittsburghProletarian
Wow, I always wondered what was said on those times Nixon and Brezhnev were alone and Brezhnev was driving like a madman. This stuff is not made up. Check page 880 of RN: The Richard Nixon Memoirs.


Premier Betty

That explains everything!