Red Square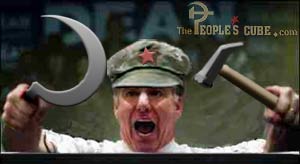 "It's time you all started calling me The Great Helmsman, Chairman Howard Zedean!"
---
In comments long-awaited by the
progressive
community, Democratic National Committee Chairman Howard Dean
blasted
House Majority Leader Tom DeLay on May 14, 2005 as a criminal, saying that the top Republican belongs in a re-education camp.
"I think Tom DeLay ought to be shipped off to the Gulag, where he can serve his jail sentence down there," Dean told Massachusetts Democrats at their state convention, while wearing the trademark Chairman's hat. "I also think it's time you all started calling me The Great Helmsman, Chairman Howard Zedean!"
"The fact that Tom DeLay has not been indicted doesn't matter. We all know he's guilty. It's like the Newsweek's toilet story, or Dan Rather's false but accurate reporting. We cannot allow revolutionary justice to be watered down by archaic bourgeois procedures," The Great Helmsman continued. "I know that the top ten 'unethical' trip-takers in Congress are all Democrats with DeLay ranking 121st on the list. But it's also a matter of common knowledge that everything the Democrats do, contributes to the
Greater Good™
, while everything the Republicans do is ugly, nasty, and immoral. I hereby declare the beginning of the Great March against the ugly, nasty dialogue that is coming from the right wing of the American Republican Party!"
* * *
The People's Cube commentary
HOW TO UNDERSTAND THIS NEWS CORRECTLY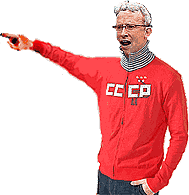 Many among our progressive audiences have repeatedly asked us, "When will the purges begin? Shouldn't we turn our shovels against capitalist pigs and their Republican running dogs already?" We share your impatience, comrades. But the time is not right yet, as exemplified by the negative reaction to Chairman Dean's speech. We shall keep testing the public opinion in the same manner until we find no resistance to our rhetoric. Then we will know that the People have been properly conditioned. Our Party representatives in the news media, academe, and the entertainment industries are getting tangible results every day. We shall soon break the chains of reason that oppresses our fury. Until then you must stand by and wait for a special transmission over the Red Star Radio. Keep your shovels ready. Nurture your rage. Over.

Premier Betty

Yes! It's about time for DeLay to go there!
(First!)


Commissar Vladimir Ivanov
I share in the impatience of our time to act.  My shovel is more than ready.  Standing by on Red Star Radio...


Komrade Koz
I just intercepted a message through the capitalist-Republican (i know, its redundant) propaganda Machine "Air-America".  I appears that none of the people on that show have it right.  While I admire their hatred and intolerance toward anything more Republican than Josef Stallin himself, I fail to see why they think that Howard Dean is Communist enough.

Either way, the message seemed to indicate that Hilary Clinton is the best choice for 2008!!  This at least shows that half of America already back us in our fight against evil money makers across the world.

PittsburghProletarian
How about Maoward Zedean? And aren't we winning the Great Cultural Revolution? Didn't it all start around 1966 with Little Red Books and LSD? I see Maoward still drops a tab or two after watching him with Russert on "Meet the Pravda" yesterday but what happened to the Little Red Book? Maybe Che could print some up for the masses. And didn't Maoward used to spell it Tse-dean? All in all, it has been a Great Leap Forward now that Maoward is the DNC Chairman of the People's Party!
Phewwww, all this Revolutionary talk has got me wound up. I need to relax with a sixer of Tsing-Tao and a friendly game of ping-pong.


ucdkgb
As the great proletarian leader Stalin proclaimed, "If there is no person, then there is no problem." Please have the People's Army remove the 'problem' so the revolution may begin.


KomradRalphieboy
Comrades:

If there is no longer any space available in the Gulag, the upper west side of Manhattan or the Village has plenty of room and is just as good at applying re-education to irridentists like Delay, who must be removed before he becomes a cancer on the body of the Great proletariat masses.

Anonymous
'Sorry to post so late on this Comrads but, as Che Guevara said: ""The revolution is not an apple that falls when it is ripe. You have to make it fall."
Comrade Zedean is right now, as he has always been. Years ago he proposed a 'commuter train' in the Socialist Peoples' Republic of Vermont. *Brilliant*! 'Paid for with 'federal government' money -- for the People!
It was a true slap in the face of the evil capitalists pigs! After all, the profit potential of a commuter train in Vermont is akin to starting a Lambourghini dealership in Bangladesh, or a 99-cent store on Rodeo Drive!

¡Viva para la Revolución!

 Bill
      Former resident of the Socialist Peoples' Republic of Vermont -- now trying to overthrow the corrupt capitalist regime in Cahleeforneeaah.