Red Square

Scientists: If your mouth is already on the floor, you have an evolutionary advantage over those who need to bend over
---
Progressive researchers and politicians alike are encouraged by last month's
discovery of a genetic mutation
that reverses human evolution to its starting point. Those affected by the
Backward Evolution Syndrome
(BES) walk on all fours and speak a primitive language. The mutation that has afflicted a family in Turkey has stripped them of the genes that let humans walk upright, returning them to the pre-human state of quadrupedalism, or four-limbed walking.
Many scientists hope that BES will reveal the secrets of human origins. But researchers at the Karl Marx Treatment Center see it as an exciting opportunity to correct human evolution, which has gone terribly wrong.
"Humankind has made a wrong turn somewhere in its development," says the Center's Chief Scientist
Dr. Fuku
. "It has evolved individualism, greed, competition, and private property. Ever wondered why socialism never worked anywhere it's been tried? Bad genes."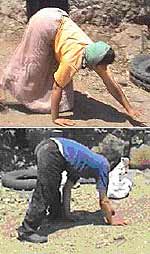 Quadrupedals are welcome in New Orleans

---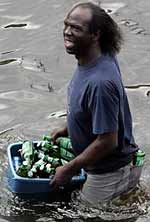 Scientists: "Occasionally, reverse evolution may require a little human help."

---

$$ Halliburton: "We've seen this syndrome before in welfare recipients."

---
"Wrongly evolved humanity breeds monsters like capitalism, global warming, and
George Bush
. But a pre-human DNA will enable us to start an alternative evolution from scratch, breeding a politically correct human race that's fit to live in a socialist utopia. We will succeed where
Stalin's scientists failed
," Dr. Fuku added.
"This is what the idyllic Golden Age looked like," says known environmental scientist
Al Gore
. "Imagine Earth populated by quadrupedal people incapable of drilling for oil, driving cars, or cultivating fields. We must immediately spend millions of taxpayers' dollars on genetic research to replicate the syndrome on a broader scale. Anything less will be a crime against nature."
Some members of the academia, however, argue that "reverse evolution" is not a glitch in the DNA but a product of successful adaptation to a progressive world that increasingly leans towards socialism. Natural selection prefers people who can do things like menial agricultural labor, scrounging for food scraps, etc. If your mouth is already on the floor, you'll have an evolutionary advantage over those who need to bend over.
Regardless of what the real cause of the syndrome is, Democrat politicians are already looking into ways to channel federal funds into "reverse evolution genetics" so that they can create a new "victim group" with an attractive voting potential. "Forget public schools!" says Rep. Nancy Pelosi (D-CA) "Backward evolution is a much better way to achieve a homogenous, tractable society ruled by enlightened elites who dispense favors out of the sheer greatness of their hearts. It's a democratic ideal worth fighting for."
The Democrat Mayor of New Orleans Ray Nagin has even come forward with a proposal to repopulate the city with the quadrupeds whom he considers the perfect electorate. Fearing that many of his old constituents might never come back, he stated, "By
refusing to return to New Orleans
, my old electorate have betrayed decades of government handouts, appeasement, and forced inactivity. But if our Democratic utopia didn't work for them, it'll surely work for the quadrupedal bunch."
"This is how people looked like before individualism, greed, and private property corrupted them into conservatism," says the DNC chairman Howard Dean. "Reverse evolution is our key to a just, equitable world free of deviants like Karl Rove or Rush Limbaugh. A genetically engineered human race will be kinder, gentler, more sensitive to the needs of the Democrats to take back the Senate and the White House."
The stakes are high. ACLU lawyers have filed lawsuits demanding special rights and focus groups for Quadrupedal-Americans, a new progressive minority whose culture is equally valid, if not superior to the mainstream American culture.
Right-wing social commentators, however, remain skeptical: "We've seen this syndrome before in welfare recipients," says
our own $$ Halliburton
.
"Unaware of time and space, speaking their own primitive language with only a few hundred words, and capable of leaving the couch for short periods, with flexed knees (mostly to cash welfare checks and purchase alcohol), the syndrome develops after a few generations living off handouts. It's just like fish that mostly lose their eyes after living in dark caves for generations, but they can re-evolve them upon resuming life at the surface. Humans can also re-evolve upright walking, even after years of government dependency, that's why human DNA can't be trusted by liberals. But a pre-human DNA might do the trick."
Village Useful Idiot
Comrades!

Consider the quadrapedals to be the obedient global villagers and ideal proletariat of the future - who without question will properly and progressively prostrate themselves before the power and authority of the socialist dictatorship and are, at the same time, perpetually ready to receive their utopian "rewards".
Let us be prepared for Comrade H.R. Clinton's glorious dictatorial reign and establishment of the global village utopia! Progressive proletariats of the world - unite and do not wait - bend over now and prepare to receive the dic tatorhsip!


Premier Betty

This is getting ridiculous. Scientists seem to think that every genetic mutation or deformity is an evolutionary link when really it's just a case of someone being born with a "problem", or a reaction to the mother licking too much radioactive isotopes while pregnant.


Che Baabaabooie
You are all wrong progressives are the only evidence of evolution. If Che is not right then how do we have geniuses like this guy:
http://www.commondreams.org/views05/0516-25.htm
Beware opponents of Hugo Chavez!!!! Che Baabaabooie and Generalisimo El Kabong are coming after you. Also, if you are the real killer of Nicole Brown Simpson and the real child molestor, then OJ and Michael Jackson are coming for you!!!!!

Chairman M. S. Punchenko

This article is very interesting comrades, I heard of this condition in Hollywood but they refer to it as "Brokeback syndrome" it usually afflicts progressive males and screen writers.

PittsburghProletarian
Funny....the German word for gloves is "Hand Schuh" literally translating as "Hand shoe". These Turks need some hand shoes. I actually suspect this is western disinformation. These are actually the Turkish Olympic 100 meter sprint team members.....On your mark..get set.......BANG!


Comrade Otis

Though most people have never heard of reverse evolution this odd phenomena has been well documented by the democratic party. Here are actual photos of a very young Teddy Kennedy culled from the secret archives.