Red Square

Have a cruisin' Thanksgiving!


SCTV skit with Dave Thomas


Premier Betty

Yay!  Thanksgiving!  I like food!


Marshal Pupovich

Ah, my erstwhile Comrade Canine Laika, have you perchance listened to the Alice's Restaurant Massacre Revisited with it's explanation of the 18 minute gap in the Nixon tapes? It's hilarious.


Father Prog Theocritus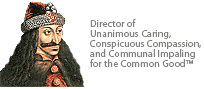 My Thanksgiving was at
Biga on the Banks
. There's one thing about a military town, home to Fort Sam Houston, the country club of the army. A certain sort of person who leaves active service and stays in the reserves doesn't want to leave Texas, often winds up being head waiter along the River Walk. I get very good service. All hail the military. The only problem is that they're not sufficiently progressive. My god, won't they just listen to Air America? Oh. That's right. They can't pay their bills. Meow! You're gonna have to hock your Hummels to pay Air America's broadcasting bills. I have no freaking idea why people just won't pay to listen to Al Franken. That man's as funny as a rubber crutch or a bustier on Mr. Reno. And whassiname, the one who is changing the world a little bit at a time. I know, I know, you want slap the shit out of him to stop his self-righteous sniveling, but goddamn it, he's one of
ours
. We
have
to listen to this blubbering baby because we made the poor bastard. After all, it's not like there's an endless supply of these braying jackasses.
So pony up, Meow. And Empress, perhaps you could spare a few shekels? It's sad you know when Air American can't stay on the air in the People's Republic of Texas, Austin. Where an old friend, who was dean of the Texas House told me, "Theocritus, neither your property nor your liberty is safe when the legislature is in session." And he knew--he was leading that damned thing.
And I'm here in the Westin and they have Faux news on the cable. And not only that, when you turn on the television, it goes to the Starwood channel, and
Not The Communist News Network
! Now I ask you. Is that any way to run a
gulag
country? You know what a feeble virus Bush Derangement Syndrome is. You have to stoke people 24/7 and every time you turn on a television you ought to see the leering mug of one of those commie babes on CNN. You know, one of those broads that could turn Slick Willie queer--not that I want him of course--Empress, I'd
never
poach on your territory, and I will avert my eyes during pay back time.
So there's work to do. Dig deep, Meow. It's going to hurt.

Chairman M. S. Punchenko

It's Betty's turn this time around to cut those hacks a check... I did it last year and all I got was a happy ending offer from Garawfulho... Oh Lenin... my stomach.... <pukes>... ugghhhh.... <pukes again, this time projecticle> Oh sweet merciful... <pukes up tofu turkey>... ugggghhhhhhh... <pukes up some ladies engagement ring>.... ugggh.... oh! Look! Some ladies rock I pilfered at the J&J Dinner/Fundsnatcher thing in Iowa! Why, that makes mentioning Garawfulho not that bad now.... bad now.... <pukes>.


Premier Betty

Umm... uh... well, I don't really want to... um....

<breaks through plate glass window and runs down street to freedom>


Chairman M. S. Punchenko

<sigh> You're going to make me do it, huh? You're really going to force me to have to actually hand over yet another check to Mark Green, aren't ya? <sigh> You have no idea how sad I get looking at Mark whimper and tear up everytime I hand him over a check. I mean, it's like he hasn't eaten in a five star restuarant for a while, ya know? Real sad crap... crap that makes me almost - almost, mind you - feel as if... as if... as if we squander too much good money to feed Mark's family with lobster and send his idiots kids to Cornell. I'm willing to hand over a check to keep the press quite about another Kennedy having to go to rehab... but Air America? Come on now, it's time they learn how to lie, cheat and steal on their own... we can't keep feeding them cash when I got six hookers in here all with an addiction to crack. Seriously, people... Air America has to get off my tit before it gets infected.


Premier Betty

That's the spirit!  Keep up that guilt.  Remember, being sad is good for The Party™.


Marshal Pupovich

Chairman M. S. Punchenko
<sigh> You're going to make me do it, huh? You're really going to force me to have to actually hand over yet another check to Mark Green, aren't ya?
Now Chairman, far be it from me to spread tales, but I think if you look around, a certain Comrade Dirk was
talking about a bunch of wallets some Republikans had contributed
. In fact, we were wondering where you were at when he was mentioning this. But you didn't hear this from me.... in fact, I wasn't here at all.

Father Prog Theocritus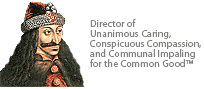 Meow. So glad that you're back. And since you were gone for a while it is only logical to assume that your trip was profitable which means of course that your contribution will be raised.

In case you forgot, that's how we do things with the party. If you're good, you have to do twice as much instead of half as much. Now since you're a member of the inner circle, it doesn't apply quite as much to you as if you were a normal person who put his pants on one leg at a time instead of levitating into them as you surely do, don't you? I do, and no, I'm not light on my feat. Shut up, Meow.

But there is one thing always to remember. Commissar Theocritus, owing to my job description, is primus inter pares, or if you prefer your Orwell untranslated, "All animals are created but some are more equal than others."