Antonio Salazarinski
For Jeff Liu, the thick Plexiglas window that separates him from patrons at his Germantown beer deli, Kenny's Seafood & Steak, is a matter of safety.
For
City Councilwoman Cindy Bass
, the barrier window is an insult.
The Plexiglas partition serves to protect workers from crime, but it also cuts them off from customers — a literal and metaphorical divider between their worlds. Several years ago, after Liu argued with a man selling drugs in the Wayne Avenue deli's lobby, the man returned with a rifle and shot Liu's car, shattering its windows, Liu said.
However,
Philadelphia Councilwoman Cindy Bass
says the windows only foster a sense that the establishment – more specifically, its clientele – is dangerous. And that too many of those stores masquerade as eateries when their biggest sales draw is alcohol, feeding vices in the city's struggling neighborhoods. "It's an indignity" to buy a meal through such a window, she said.
Philadelphia Councilwoman Cindy Bass
But Adam Xu, 54, chairman of the Asian American Licensed Beverage Association of Philadelphia, said the protective window should be a business owner's choice. His association represents 217 beer delis in the city, about 70 percent of which are owned by people who are ethnic Chinese and another 20 percent of Korean descent. "Most of our businesses," he said, "are in not-as-safe neighborhoods."
Deli owner Rich Kim opposes the bill, arguing that such a physical barrier saved his mother-in-law's life when she was attacked by a knife-wielding attacker. "If the glass comes down, the crime rate will rise and there will be lots of dead bodies," Kim said. Kim thinks the bill unfairly targets Korean store owners. "I do think it's a bad bill that will endanger Korean Americans," he said.
Kim, owner of Broad Deli
Look, we can disagree all we want about the proper role of government, but can't we all agree that if a law will actually cause people to die, then it's a bad idea? Seriously, how can anyone look at this part of the proposal and not think, "You know what? This is going to get people killed."
Captain Craptek
A suggestion;

Perhaps council thing Cindy Basstard could offer free plexi-piercing ammo to underprivileged denizens of the hood -


CC

Red Square
This must be a linguistic misunderstanding. The deli owners speak Roof Korean, which the Philadelphia Councilwoman Cindy Bass considers a non-language.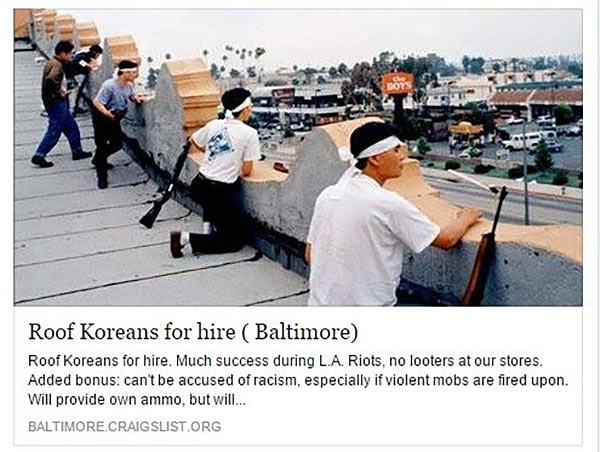 trashmouth
As any progressive American can tell you the oppressed hyphenated peoples are constantly in need of policies that come from wise and trustworthy leaders who are more than happy to do the thinking for them.
Aside from the many rules that totally prohibit the possession of businesses for some reason some were not discouraged by all the permits, license, rent and fees, yet were able to survive without local government assistance.
While many politicians with rich in diverse ethnic backgrounds, gender identities and mental disorders are mostly concerned with political correctness, I certainly applaud councilwoman Bass and her fellow council members who are not only interested in creating a new law that removes the plexiglass from corner stores and eateries, but also requires store owners to give up their unhealthy obsession with the fear of violence and gore.
Despite the alarmist bleating from store owners, perhaps councilwoman Bass would begin to promote the idea of placing large "Gun Free Store Zones" to combat any crime. It works for most businesses, schools and churches, and it would create a new era of peace and prosperity, free from want, need or responsibility.
Red Salmon
Most Equal Komrade Salazarinski; I feel Councilperdaughter Bass is shrewd. Sure there will be a few disfiguring injuries and maybe some deaths. You have to break a few eggs when creating the Glorious Omelet of Next Tuesday™.

Removal of the racist plexiglass and the resulting unfortunate casualties will most assuredly result in a drastic reduction in corner eateries. Then Councilperdaughter Bass and her likeminded cohorts be able to declare the areas "food deserts". As we have seen in other enlightened gulags, the ONLY solution to a "food desert" is the government distributing food according to the needs of the inhabitants. This system never breaks down and there will be no racist plexiglass.

Only through the Current Truth ™ will we reach the Glorious World of Next Tuesday, Red Salmon

Genosse Dummkopf
Border is inclusively open, but some, uh, nagger, needs a f*ing "barrier" around his chow?
OK, if he/she/ze is such a fastidious foodie, why not simply use a handful of
Merkel-LEGO
to embellish his/her/hirs hotplate - gov't-approved, German hightech, and neo-aesthetic.
BTW, had that kooky cook just distributed his grub and whatnot on the TISTAAFL principle*, he would be the safest guy on Earth (except, of course, the few minutes at opening - when the tired, the poor, the huddled masses yearning to eat free, wreck - down to refuse - your esteeming store).
* TISTAAFL - There is such [a] thing as a free lunch.
(the revolooshunary negation of TANSTAAFL - There ain't no such ...)