spectrum sanitizer

The Silent Muslim Majority

When only 15 Arabs (probably Christian Chaldeans) showed up to protest the Christmas-Day bombers failed airline explosion over Detroit and denounce Muslim terrorism, you have to ask yourself, "where is the rest of the 250,000+ Muslim/Arab members of the community…at work?" Or do they silently condone it.

Juan Williams gets fired from NPR for saying Muslims on planes scare him, of course, being the good liberal he is, he says it's just a visceral reaction, something he has to work on. (I'm just being honest. O.K., well, we don't like that type of honesty here - you're fired!)

Lets see, UA flight 93, "lets roll" Shanksville PA, the Twin Towers, The Fort Hood Shootings, the U.S.S. Cole, etc., etc.

Hey, they were all Muslims….

Hell Juan, I would be scared too. It might be time to face reality. The Muslims are a threat. Most of Europe doesn't want them anymore, they're like a scourge. Living off of welfare and reproducing like rabbits, then using their host countries discrimination laws to benefit themselves, and saying they just "want tolerance" like everyone else.

There are plenty of moderate Muslims, if only they would come out of their holes and identify themselves and speak up.

I can't hear anything.


Hey, where are the moderate Muslims that want to assimilate?
Where are the moderate Muslims who love the U.S. Constitution?


Krasnodar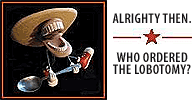 Sounds to me like Spectrum Sanitizer is trying to malign the Progressive's embrace of
Islam
by bringing up facts. What a cheap trick !
For the record : The Party would never resort to the tactic of using facts as a means to discredit a faulty social and political agenda. Deceit and innuendo are far easier to use..

Comrade Whoopie

I think Spectrum Sanity-izer just forgot to use the "out of character" warning to show he's being humorously sarcastic like this...

[OFF]
Ya know, as quick as mooslims are to riot at the slightest insult to Islame, you'd think millions would be up in arms all over the mooslim world because these radicals are dragging the good name of Islame into the gutter. I mean, what's a bigger insult to the "religion of peace"? Drawing a cartoon or actually murdering innocent people for no reason?


Chedoh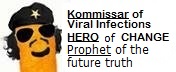 It's America's fault, stupid!

They are completely on the defense from our hate and attacks! Now what you could do is go get some Muslim friends, get your picture taken with them and put it up on Facebook and caption it "Look, I'm not a racist! I have muslim friends!" and that might absolve you of your ignorance!


General Confusion

Comrade Chedoh is correct!

The terrorists themselves have said it is America's fault.

Constructing those two buildings on a busy flight path was never a good idea. The "it will never happen here" mentality was pervasive during construction.

Parking a warship at a peaceful harbor with no guards was a unwarranted provocation to terrorists in the area.

They responded, whose fault is that?

The US of A, that's who!


Yakov-Luvlas

EVERYBODY KNOWS:
ISLAM IS A RELIGION OF PEACE!!!!
It seems to us that some people need SERIOUS REEDUKATION about ISLAM! They are a group that seeks peace! Just ask Our Komrades in the Al-Aksa Martyr's Brigade; or our fellow Komrades in Peaceful FATAH. Or why not talk to our good friends in Hamas or Hizboullah? They Seek Only PEACE and BROTHERHOOD for ALL MANKIND!!!! Thos who disagree are Kapitalistik Pigs who deserve REEDUKATION in one of our esteemed Kamps! Beisdes this, Komrade Obama is in akkord with our Islamik Brethren.
AND IF KOMRADE OBAMA, THE WONDROUS AND VALIANT, SAYS THAT ISLAMIKS ONLY MEAN PEACE...
THEN IT IS SO!!!!!!!
HAIL WONDROUS, VALIANT OBAMA!!!!!!! MAY HIS RISE KONTINUE TO SKYROKKET!!!! VIKTORY IS OURS!!!!!
I'm all for Muslims and Islamic people - I even teach many in my ESL classes here at

Virginia Tech

but the fact that there are so very few who dare to speak out against the radicals makes this religion more one of fear than of peace....