Vladimir Poutine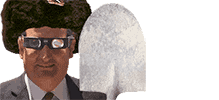 We are pleased to announce that our brilliant climate scientists Lowell Wood and Ken Caldeira have discovered a solution to the current truth of global warming. Originally formulated by Lowell Wood and Edward Teller in 1990, and approved by our expert climate scientists everywhere, we now know that to stop global warming we can simply inject millions of tons of sulfur dioxide into the atmosphere.
This marvelous substance, which is also released during volcanic eruptions, used as a refrigerant or as a preservative, is associated with increased respiratory symptoms and disease, difficulty in breathing, and premature death, is perfect to inject into the atmosphere. Since it will reflect 1% of the sun's rays, this should be enough to stop the current inconvenient truths our genius and informed politician Gore speaks of.
We know this will work, as our research into watching volcanos erupt (specifically Mount Pinatubo) has proved us correct. This eruption released only 20 million tons of sulfur dioxide into the stratosphere. There the sulfur dioxide mixed with water to create a marvelous compound known as sulfate aerosol (a mixture of water and sulfuric acid), which absorbs sunlight and reflects some of it back into space.
This 20 million ton injection worked temporarily, but we need more to sustain anti-global-warming. We are currently researching how much of this substance we should release, so that we can achieve a glorious planetary atmosphere like the most prosperous and life-giving planets Venus, Mars, and Jupiter's moon Io. We must stop global warming, at all costs, be it human life or the low, low price of $1 billion per year.
We have since given Dr. Caldeira a lifetime research position at the Carnegie institute.
Read More at Wired:
https://www.wired.com/2008/06/ff-geoengineering/

Red Square

Vladimir Poutine
This marvelous substance... is associated with increased respiratory symptoms and disease, difficulty in breathing, and premature death...
If it reduces the human population by a few billion, it's gotta help the planet even without any other added bonuses.
The Party commands the settled science to release the gases - as soon as we complete the underground shelters to protect our most valuable comrades. We don't think we'll need those scientists any longer either - they've completed their mission. We will advise you on the timing in a separate transmission. Good job everyone and farewell!
It's for TheChildren™!

ThePeoplesComrade

Government Grants create self sacrificing, ecocentric scientists.