ThePeoplesComrade

as seen on
Moonbattery
(but don't go there)
I honestly don't care what this pseudo-scientist Corbyn says because we all know the science is settled on this issue and humans are burning the planet down by driving SUV's. But if you are going to be a scientist, you should look like Piers Corbyn. Mr Corbyn's physical feature genes need to be preserved for future cloning of all scientists. And yes, an English accent helps, too.

Fraulein Frankenfeinstein

umm, Prof. Corbyn, what happened to your hair? It looks like an explosion in a mattress factory, but I digress.... I was going to say, how much he reminds me of dear beloved late Mr. P.
I do not know why we have to keep discussing what is already settled, as Algore has instructed us. It's
global warming
, $#@!! and that's all there is to it! These reichwingers need accept the fact that big cars and hairspray will be banned and
movealong.org
. move along.
Does Mama MO Antonietta looks out of step or is it my bifocals?

Opiate of the People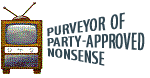 Gosh, who is the one on the right? She reminds me of our glory days (damn that Gorbachev for ruining everything) when the East German women's Olympic teams won every event going away until those lousy chromosome tests came along and spoiled things.