Ivan Ivanobitch

Osama Bin Laden is surely dead
but we continue to be terrorized by
Obama's Ben Bernake
. He is holed up in a large white building only yards from the heart of government and is tended by couriers and his many wives, QE1, QE2, QE3 and so on. Is is reported that he controls a vast web of shills and fixers and is mission bound to destroy the dollar and all of the infidel capitalist vermin. The FBI and CIA know exactly where he is but, curiously, have not raised a finger to bring him to justice. I smell a rat...
Praise Obama!......



General Confusion

Comrade,

Of a certainty you cannot be referring to "Bend Dover" Ben who simply does the bidding of his master.. This is a classic example of "free will economics". Neither economic laws or personal experience are relevant in this case.

The "Dark Lord" orders the course of action and we equally comply.

Major Mistake said WTF or ODF*

*censored remark not suitable for "military outsiders".


Vladimir_Scratchanitch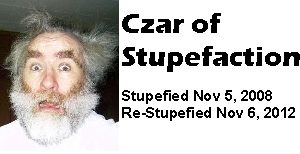 Fierce Obama SEAL Doll Released
Wednesday, May 11, 2011 | Updated 11:45 AM EDT
By LeAnne Gendreau
NBC Connecticut
Navy SEALs have become national heroes since news broke that they took down Osama bin Laden, so it's fitting that the newest action figure from a Connecticut company is a fierce looking President Barack Obama as a SEAL.
FULL STORY
HAA HAA HAA, HO HO HOO, HAA HAA HAA, SNICKER, GASP, GIGGLE, WHEEZE
UPDATE- Maybe they should have made him the First Homo Seal.


General Confusion

Comrades,

Do you see the state of origination?

This doll may come with a phony social security number.

Caution is advised.

Major Mistake slurred his words, sounded like "bull ship".


Ivan Ivanobitch

Obama is a seal just as surely as I am the walrus. goo-goo-ga-joob.