Red Square

Dear Mr. Pollution,

You need to learn a thing or two about Global Warming. Everyday living is destructive to the Environment. One of the most important ways people can help save the environment is to STOP HAVING BABIES. Another very important thing you can do is to euthanize your pet. Our company sells Carbon Credits which are the only hope of saving the planet.

For the sake of the planet, we need to act before it's too late.

Please visit our company's website for more information.
* * *
Reading this email made me feel a refreshing wave of healthy guilt. I immediately rushed to check out on ways to reduce my carbon footprint and hoping to buy Baby Credits, which would pay some poor and sickly woman in Sub-Saharan Africa to remain childless.
Once on the website, I also experienced a very progressive attraction to its creator, Daphne Tremayne - an avid yoga practitioner and a marketing guru, all in one unbelievable package.
Her tips to a better living included:
Stop having children
If you must have children, buy baby credits
If you must continue living, buy funeral credits
Euthanize your old pet with a non-toxic blunt trauma termination method
Slow down your breathing
Reduce your use of paper products
Eat less to defecate less, thus reducing the consumption of toilet paper
Consider switching to a reusable toilet sponge.
Purchase carbon credits from GreenTremayne
Excited with these newly broadened horizons of progressively guilty living, I even printed out an online coupon with a Special Offer from Our Friends at EuthanEazy!
Imagine my dismay when I read the fine print (I always read the fine print!) and discovered that Daphne is only a fictional character from an anti-environmentalist satirical novel, born in a deranged mind of a reactionary white male oppressor! The entire project turned out to be an obscene and immoral marketing ploy, aimed at luring the gullible heroes of progress to part with their capitalist exploitation units and buy
Biodiesel: A Novel
by one shameless George H. Monahan.

John Frum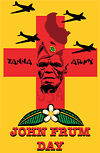 I don't know whether the cute comradette lives by these rules. I hope yes, so she doesn't pass down her stupidity or perfidy. Slowing down breathing renders one more stupid and less healthy. Apart that that's what they want. In all my Chemistry classes at UCF they make a point that if you want grants in the future, you must belong to the green church with High Priest the Most Green Al Gore.

We are swamped in energy and that could cause yet another industrial revolution, if it weren't for the green bloodsuckers in our necks. We are almost there in using deuterium, that is literally a bottomless pit. For the next thousand years we don't need deuterium either, we have gas, oil, thorium, uranium, geothermal. The left encourages everything that doesn't work and discourages everything that works. For example, they sabotaged to death the hydropower electric centrals, alongside with nuclear centrals, coal, gas, oil.

By emitting more carbon dioxide we provide more food for plants and avert the next ticking glacial era. They don't call it Global Warming anymore, they call it Climate Change, and they are right all the time. Climate changes every minute of the day, every day of the year, all the time in 4 billion years of evolution. As if they care... The more crap we buy from their kool-aid, the better we are.

Take my advice: make as many babies as you can. The good news is that liberals are buying into their crap and having less babies. Same like drug dealers: all of them become consumers sooner or later.


R.O.C.K. in the USSA
Comrade Square, I am deeply disappointed. Upon seeing the coupon I immediately printed it out, put my cat in a biodegradable cat carrier, and headed to my local veterinarian - only to be told that the coupon was not valid!

I guess I should have read the fine print too.

All is not lost, however - I have several blunt objects of my own that I can use.

The cat is giving me a very strange look.


Krasnodar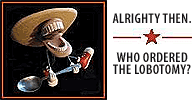 O.M.G.
Daphne knows how to showcase

Grade A

material !

Ivan Betinov

Wait...it isn't a real enviroprogram?

Oh dear. Poor Scout. He was a good dog.


You didn't build that Czar

Daphne is not real?

That's it, back to toilet paper. Anyone need a slightly used, reusable toilet sponge? It's in good condition. Ships in vinegar-filled tupperware.


Anyer Marx

The earth will be much better off without those pesky carbon-based "intelligent" life forms.

Centers for Disease Control

From
WUWT
: