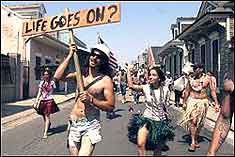 "Southern Decadence" in New Orleans,
Sept. 5, 2005 -- Benevolent Gays Ruin Dire Narrative of Enviromentalism and tragedy
caused by Bush.
We understand the importance of gay pride here at The People's Cube, but could there be a worse timing or place for such frivolity? This Sunday, Sept. 5, two dozen gay men and a few lesbians paraded down New Orleans's famous thoroughfare, Bourbon Street, while wearing beaded necklaces, hula skirts, and wigs - at the time when all progressive media outlets, political activists, and Democratic Party leaders have selflessly converged to paint a lurid picture of horror, death, and desperation in that very area, multiplied by Republican incompetence, racism, and mismanagement! The benevolent gays must stand down for the dire narrative of environmentalism...