Laika the Space Dog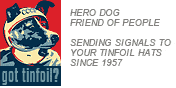 An Open Letter to Dr. MAHMOUD AHMADINEJAD, President of the Islamic Republic of Iran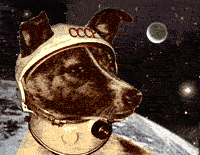 With great pleasure, we here at the People's Cube wholly concur with your forthright scholarly analysis of the present situation in the world. Only a university professor doctor like yourself can come to the rational conclusions you have drawn for the whole world to see.
Take for instance this paragraph in which you stated:
Quote:
Young people, university students and ordinary people have many questions about the phenomenon of Israel. I am sure you are familiar with some of them. Throughout history, many countries have been occupied, but I think the establishment of a new country, with a new people, is a new phenomenon that is exclusive to our times. Students are saying that sixty years ago such a country did not exist. They show old documents and globes and say try as we have, we ha ve not been able to find a country named Israel.
How correct you are! The Jew didn't exist until 1948! The phenomenon is so weird! I've tried looking and I can't find Israel also. I tried to find Vietnam, Zimbabwe, Serbia, the Czech Republic, Pakistan, Latvia, Belarus, Tonga, Sri Lanka, Myanmar and Bangladesh and to my amazement they didn't exist either. Strange names like Ceylon, Burma, French Indochina, and Rhodesia keep turning up. This must be a worldwide Zionist plot! By the way, Mister Doctor President, whatever happened to the Ottoman Empire and Persia?
You go on also to claim:
Quote:
All governments have a duty to provide security and peace of mind for their citizens. For some years now, the people of your country [USA] and neighbors of world trouble spots do not have peace of mind. After 9-11, instead of healing and tending to the emotional wounds of the survivors and the American people - who had been immensely traumatized by the [9-11] attacks - some Western media only intensified the clim ate of fear and insecurity - some constantly talked about the possibility of new terror attacks and kept the people in fear. Is that service to the American people? Is it possible to calculate the damages incurred from fear and panic?
Again, how right you are. 9-11 was a fluke, just a one time event. The evil Bush should be conducting wellness seminars and grief counseling so we can heal our emotional wounds. We'd be better off forgetting all those other one time events also, like the first bombing of the WTC, all those embassies blowing up, that nasty USS Cole incident, that Achille Lauro thing, the Marine barracks in Beirut, that other hijacked airliner that the cowboy Reagan made jet fighters force a landing, that disco in Germany, the Munich Olympics, and am I forgetting anything?.....Oh, yes, our Embassy in Tehran being overrun with progressive students and holding hostages for 444 days. One of the captors even looked like you, but we know you're a nice guy and you'd never condone such actions. Like FDR once said "The only thing we have to fear is fear itself." Not wo nderful countries like Iran or Iraq.
You go on to further point out:
Quote:
In countries around the world, citizens provide for the expenses of governments so that their governments in turn are able to serve them. The question here is: "What has the hundreds of billions of dollars, spent every year to pay for the Iraqi [and Afghan wars] campaign, produced for the citizens?"
As Your Excellency is aware, in some states of your country [USA], people are living in poverty. Many thousands are homeless and unemployment is a huge problem. Of course these problems exist - to a larger or lesser extent - in other countries as well. With these conditions in mind, can the gargantuan expenses of the [war] campaign - paid from the public treasury - be explained and be consistent with the aforementioned principles?
Wow! Great thinkers like Howard Dean, Cindy Sheehan, John Murtha, Ted Kennedy, John Kerry, Bill Clinton, Hugo Chavez, Fidel Castro, Jimmy Carter, and Dick Durbin feel exactly the same way. You people together should hold a conference; like that Holocaust one you just had and I'm sure all of you put together will be able to solve all of the world's problems. Please don't forget to invite Hillary and we'll be able to straighten out this mess in the Fall of 2008.
Finally, in your most important point made:
Quote:
It is not my intention to pose too many questions, but I need to refer to other points as well. Why is it that any technological and scientific achievement reached in the Middle East region is translated into and portrayed as a threat to the Zionist regime? Is not scientific R&D one of the basic rights of [all] nations?

You are familiar with history. Aside from the Middle Ages, in what other point in history has scientific and technical progress been a crime? Can the possibility of scientific achievements being utilized for military purposes be reason enough to oppose science and technology altogether? If such a supposition is true, then all scientific disciplines, including physics, chemistry, mathematics, medicine, engineering, etc., must be opposed.
How true! Just because you've threatened to "wipe Israel off the face of the Earth" and the "Great Satan" too doesn't mean we should take you for your word, which would be stupid. Progressive leaders like Hitler (PBUH) and Stalin (PBUH) have taught us that specific threats really have no meaning. A country awash in oil shouldn't use it for energy, that's why Iran needs a nuclear program. It's just that simple, and I'm sure the Twelfth Imam pointed it out to you after you dropped that missive down the well.
In conclusion, we here at the People's Cube believe you should be nominated for the 2006 Nobel Peace Prize along with Cindy Sheehan. This letter proves beyond a doubt that you are a true man of peace by reaching out to the evildoer Bush, who'll never win that prize. It's just a shame we have to wait until 2009 to get a Democratic President who'll see eye to eye with you and do business in a proper and peaceful manner. Until then, we'll just have to bide our time and wait for that glorious day.
Regards,
Laika the Space Dog

Premier Betty

Some capitalist pig nominated Bush for the Nobel Peace Prize for bringing democracy to two different countries. How foolish of him to think that Democracy brings peace... pfftt....


Comrade Swamp Rat
The Nobel prize needs to nominate Saddam and Ahmadinejad, along with Bin Laden, for their efforts of world peace, just like Comrade Gorbachev was nominated over the evil imperialist Reagan!


Grigori E.R.

2011 International Socialists Technical Upgrade For Red Jihad And
Islam
:
You've got mail.
Sorry for the delay Comrade Laika. Due to cut backs in the NASA program we had a hell of a time delivering your mail.
Dear Laika the Space Dog,
Laika Space Dog
said;"
It's just a shame we have to wait until 2009 to get a Democratic President who'll see eye to eye with you and do business in a proper and peaceful manner. Until then, we'll just have to bide our time and wait for that glorious day.
"
When we take over the Satanic States of America I will declare you, Laika the Space Dog, as the one true
People's Prophet
. Peace be upon you Space Doggie.
Please say hi to all my friends at ThePeoplesCube, especially Fraulein Pulloskies.
Yours in Peace and Freedom,
Mahmoud