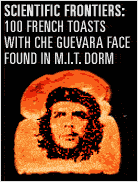 Warning
: MagpieRSS: Failed to fetch http://pipes.yahoo.com/pipes/pipe.run?_id=ded43a6ea70f29b65dc09929f9dd286c&_render=rss (HTTP Error: connection failed () in
/home/i1h82i026xut/public_html/includes/rsswidget/magpierss/rss_fetch.inc
on line
238
Warning
: array_slice() expects parameter 1 to be array, null given in
/home/i1h82i026xut/public_html/includes/rsswidget/che-rssbox.php
on line
13
---
---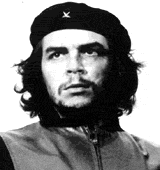 Muchachos! Viva La Che! Unite with us in glorious revolt for social justice in the use of the supposed Korda photograph inspired image of Comadante' Ernesto Che' Guevara!
Bastions of Party Elite including Comrade Korda's, and Comrade Che's silver spoon kapitlist pig decendants have been waging war in the kapitalist pig courts against use of our most beloved Che's image on party propaganda and people's vodka.
Grab your shovel's comrades and join us in the fight to free Comadante' Che Guevara forever!
A recent discussion on the
People's Blog
prompted us to create a new line of Che Guevara People's Products under the title "
Che Heart Plus
." The thinking behind it is that if we combine the most popular T-Shirt designs into one, we must surely come up with an ultimate, most popular design that will guarantee us a timeless commercial success for the Common Good.
The idea is similar to the People's Cube FAQ, that is, if you combine all the FAQs that exist in the world in different languages, put them into a gigantic computer database financed by non-political charities sponsored by George Soros, and rearrange the questions in the order of priority, the list of world's most important FAQ must begin with "How to fight capitalism with Global Warming?"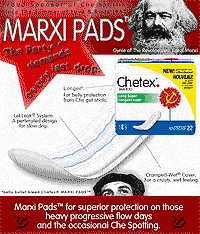 Comrades, meet Kelly and Jen, two wholesome, fresh-faced all-American girls who went to Cuba and fell in love with Che Guevara—or as they themselves put it:
"We are Kelly and Jen, and we are not Communists. We are just two girls who went to Cuba and fell in love with Che Guevara. This is our story."
Click, read, and follow their amazing journey of discovery and enlightenment! As you witness the thrill of impressionable young hearts and minds opening to the light of Che Guevara that still shines brightly more than forty years on, you too will find yourself falling in love with the image . . . the likeness . . . yea, the very idea . . . of Che Guevara.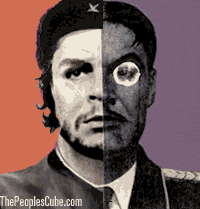 The recent
sightings
of Che Guevara's iconic image
next to
prominent members of the progressive community must have been a harbinger of things to come - for just hours ago in the blessed city of Denver, on the eve of the honorable and equitable Democratic Party convention, the ghost of Che Guevara appeared in the night to a secretly convened meeting of the Party leadership.
Thus spoke Che: "Friends, muchachos, comrades, fellow revolutionaries: Listen carefully to my words, for I have been granted leave from the netherworld only for a sufficient time to deliver a prophecy that shall guide your social policy when you take the reins of power ...
| | |
| --- | --- |
| | A report released by the Pentagon confirms rumors that popular international terrorist Ernesto Guevara, better known under the nickname "Che" has been captured in a safe house south of Baghdad, during a routine raid operation conducted jointly by the new Iraqi police and the US Marines. His identity was immediately established by comparing his face to one of the Che Guevara T-shirts that lay scattered around the safe house. |
---




Music by Paul McCartney, lyrics by Laika the Space Dog
(We'll take a Paul's song and make it better with Che Guevara)

Che, dude, don't be afraid
You were made to be a protester
The minute your professor gives you a grin
Then you begin to make it better.

And any time your parents complain, Che, dude, refrain
They'll carry the tuition upon their shoulders
Well don't you know they're all fools and Eichmann's tools
Just ask Ward Churchill up at Boulder ...
---
Could Che Guevara be a direct descendant of Prophet Mohammed?

MORE >>
---
Ernesto Che Guevara sold 100,000,000 T-shirts this year alone! He's world's greatest T-shirt salesman. Come on, trust-fund college kid! Be a non-conformist because everybody else is! Being popular is so elfin' hard. Che shirt = instant recognition. Viva la merchandise!

Who's your daddy? Have yourself a nice progressive Christmas!
---
| | |
| --- | --- |
| | This email exchange started when a student from Communist China currently living in Japan bought an anti-Che T-shirt "My American Revolutionary Kicked Your Commie Revolutionary's Ass" from Che-Mart, an online store devoted to Che Guevara. This letter makes one ponder about what America means to people in other countries, what message American freedom sends to the world by the very virtue of its existence. It also makes one think about those Americans who want to change this country, to make it look more like the Old World, and thus to kill hope for people like Billy. |
---

Ernesto Che' Guevara signing order to arrest and shoot everybody at Cafepress.com.

A lot of progressive people ask themselves when faced with life's problems: What would Che' say? We can assure you that in most cases our Ernie would say, Put 'em up against the wall and shoot 'em!

And this is exactly what Che Guevara would say in this case as well. Shoot the photographer who took the famous picture and all of his family members who hold the copyright to that image. The same goes for the Cafepress.com executive board, their lawyers, programmers, designers, mail room clerks, and the poor Albanian cleaning lady - for being capitalist pig-dog profiteers, the "Little Eichmans" in Ward Churchill's words, who dare make a living by exploiting Che's image, his life, and passion. They explicitly or implicitly participate in the running of Che Guevara through the grinds, the gears, and the conveyer belt of the hated capitalist industry which Che' sought to destroy.
---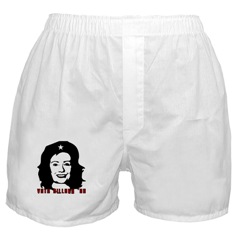 Cafepress.com on many of its news pages is promoting a pro-communist store that, among hammers and red stars, also sells "Hillary Guevara" design based on the famed Che Guevara picture by the Cuban photographer Korda. One can buy Hillary Guevara shirts, pins, mugs, bags, baby and doggie items, and yes, boxer shorts commanding you to "vote Hillary '08." More on that later.
In our previous story we described how Cafepress.com censored our "Che is Dead" design with a hairy skull in a beret on a vague pretext of copyright infringement - while they turned a blind eye on other shopkeepers who blatantly used corporate logos and trademarks in designs that denigrated American corporations and capitalism in general.

10/18/05 - 1:30pm

Last night I went on Cafepress and created the "Che is dead" shop again, to see what happens. It has been up for more than 12 hours without purging and sold 3 "Che is Dead" shirts! Looks like our satirical attack worked!

Which means we are capable of defeating the leftist obstructionism if we just show a little effort. I encourage all our comrades to do the same everywhere. Speak openly, be persistent, be unafraid. We shall - how you say it - overcome?
---
(Over 100,000,000 t shirts sold a year by the
World's #1 T-Shirt Salesman: Che Guevara)
For more than 20 years The Revolutionaries™ have taken up The Peoples™ struggle in Mother's dark basements and University faculty lounges. Quietly moving forward to the Progressive World of Next Tuesday™ while they suffer yet another Latte' at Starbucks.
Well Che-Mart™ is here to tell the Running Dog Kapitalist™ silver spooner lackies NO MORE! It's time for the Unwashed Masses™ to rise up and dawn their Che Guevara t-shirts to show these silver spooner neo-kulaks that The Revolution has not failed, that the people are alert, alive and ready to take these spoon fed McMansion dwellers to Che-Mart's wood shed for some brand new duds.
Introducing Che-Mart™, the most revolutionary store since Groucho Marx cooked Duck Soup at Jimmy Carter's peanut ranch.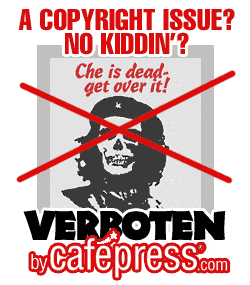 On Oct. 9th I created a section in my Cafepress.com online store with T-shirts featuring a black and white picture of a hairy skull wearing a beret and a caption saying, "Che is dead, get over it." On the following day Cafepress removed these products from my store even though someone has already ordered and paid for a shirt. They referred to copyright infringement as an excuse.
I understand and respect the copyright law, but did I really violate it? Here's my letter to Cafepress.
Dear Content Usage Associate,
A picture of a hairy skull in a beret that I drew myself as an artist can not be an infringement of anyone's copyright. I assure you it isn't even Che Guevara's skull...
---


Tikritos:
It's cool, its progressive, it's rebellious!
Every crunch is a loud political statement!
Great for street protests and sleepovers!


Our affiliate, Che-Mart™, the Che Guevara superstore, was the first to learn the news from socialist networks: Saddam Hussein still believes he is president of Iraq, is obsessed with cleanliness, makes bad coffee, and loves Doritos, an ex-guard has revealed.

Anticipating a new fad among its progressive consumers, Che-Mart rushed the manufacturing of Tikritos, a new product modeled on capitalist Doritos. In the spirit of socialist competition, the fastest-growing producer of progressive products didn't spare any of its *sweatshop laborers in bringing the new favorite socialist flavor to the masses.*(we thank Comadante' Che Guevara for the fine Cuban cigars rolled by 5 year old communist children as well..)
---
WASHINGTON -- Mike Tyson's career ended abruptly Saturday night after the sixth round against Ireland 's Kevin McBride. Three men - Black, Asian, and Hispanic - approached him as he sat on the floor and whispered something in his swollen ear. Tyson stayed seated for a few moments, then hesitatingly rose and walked to his corner, nevermore to return.

Looking more like an aging man than the champion who once terrorized the heavyweight division, Tyson complained about being betrayed, threatened, and harassed by everybody, from the print media to communist governments to NAACP to Chinese taxidermists.

"I had made some wrong choices," Tyson confessed, pointing at his tattoos of Mao Tse Dung, Che Guevara, and Arthur Ashe.
---
Can't win at the ballot box? Get a Chevy Bill Ayers!

Reinforced bumpers: perfect for ramming government buildings
With the top down everyone can see you giving the finger
Oversized trunk can fit up to 800 lbs. of nail bombs.
Room for 18 standard-sized bumper stickers
Tires made of reclaimed sandal soles: great for spreading a message of peace as you plow through a police barricade
All models are mirrorless because alternate views are meaningless
Only comes in communist red with a yellow interior
Runs on bong water
Built in bullhorn
Only turns left

Just like college in your Che Guevara t-shirt... No money down and your daddy pays the rest!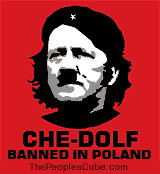 The iconic image of Che Guevara found adorning students' walls and t-shirts across the world could be banned in Poland under a government proposal to outlaw materials that incite "fascism and totalitarian systems".
"After experiencing 40 hard years of communism, as well as the horrors of Nazi occupation, few Poles have qualms equating under law the inequities of Nazism and communism. 'Communism was a terrible, murderous system that claimed millions of lives,' said Professor Wojciech Roszkowski, a leading Polish historian and member of the European parliament. 'It was very similar to National Socialism, and there is no reason to treat those two systems, and their symbols, differently. Their glorification should be prohibited.' He added communism had accounted for the slaughter of thousands of Poles in the Katyn Massacre while its gulags had consumed countless millions of victims."
---