Juche Couture

Roger Rabbit's evil Judge Toon and DOJ's Rod Rosenstein; same person?

Genosse Dummkopf

Komrades, what's that Glupschaugen Syndrome of the World's Elite of Elites?
(Glupschaugen
(gloopsh-awg

ə

n)
= pop eyes, goggle-eyed)
Comrades Peloski, Schiff, Bernie, AOC, Snakey, ... , and add Rosenstein.
What the heck do they smoke? Or - epiphany! - addiction to
SextaKube
?
Are there glupsch-eyed Rethuglicans?
Btw, ever seen Orange Man doin' Glupschaugen? No? #MeToo!
Best proof ever, that this Enemy Of the People may be anything, but surely not Elite!

Captain Craptek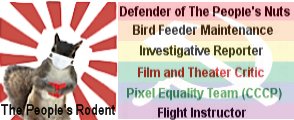 .
Comrades,
Don't look a gift prol in the eye!
CC